February 2009 - Japan
---
I am currently sitting on the lounge looking out the window onto Sapporo. It has been snowing out there since we arrived and yes, it's cold.
But let's rewind a bit first… To Thursday.
Thursday we headed out to Shinjuku after trying the 100% Chocolate Shop that had 59 different types of chocolate ranging from different countries to different flavours. The iced chocolates were good… not as good as an iced cocoa though.
Go figure that we were both really tired today. Around Shinjuku I couldn't stop yawning. We did Tokyu Hands then Kinokyunia and then decided that we needed to go in search of food. We went to the top of the Takashimaya building in search of a carving that both of us had had for the previous couple of days… Hot Dogs. We sat watching The Simpsons Movie eating Hot Dogs, Chips and huge Onion Rings. It was just what we needed to recharge our batteries a little bit.
We raided HMV and then let gravity take us down all the levels of Takashimaya. By the time we were at the bottom I was pretty much over walking, shopping, EVERYTHING, so with a couple more stops we were on the way back to Ginza.
I stopped at Itoya, Jonno stopped at Louis Vuttion and bought a wallet. It took a while to a) get someone's attention so our name was put on the waiting list and then b) for our turn on the list. Then Jonno's card company wanted to confirm that he was him. There was this 1921 LV box next to us. I wanted to get inside and scream, then get out like nothing happened.
FINALLY back in the room Jonno had the best suggestion of the day… Room Service and we cancelled our plans of heading to that hole in the wall bar in Ginza from last time we were here. My feet were firmly planted in the room tonight and after a burger with truffle sauce and brie I was done.
Now I should explain that I had every intention of going to this huge theme park out near Mt Fuji. But it was $100 and a two and a half hour bus trip. Jonno and I both thought our time would be better spent in Tokyo. He was right. Whilst waiting for my burger I did some research and got the Concierge at the Hotel to help me book a pole dancing lesson ☺
I had found this place on the internet and the timing was perfect for the next day 3.30pm until 5pm. It was near the Tokyo Gymnasium, about two stops from Shunjuku so it wasn't the easiest thing to get to but with my Tokyo Atlas I found it all the same. But let me go back to the rest of Friday first.
We started the day back at our favourite Iced Cocoa store in Ginza and then we walked through a couple of department stores looking at how cute Burberry for kids was. I suggested we separate because Jonno wanted to head back to Shibuya and I felt that I had done all I needed to there. I wanted to go back to Shinjuku and do a bit more exploring, which I did, and ended up having lunch at the Park Hyatt Hotel's lounge. I had had the idea to do it earlier in the morning when I saw how clear a day it was.
I navigated my way to the Pole Dancing Studio and made it with almost perfect timing. Both the receptionist and the teacher had a little English so that helped. It was a beginner's lesson (that was the only time I could make) but I thought it would still be interesting to see what it was like.
After a very long warm up, the teacher Reiko asked me two simple questions. Can you climb to the top of the pole? Can you go upsidedown? Hehe. For those that don't know I can do both… VERY easily. The beginner's didn't go upsidedown. The pole's weren't spinny, so to spin you had to rely on centrivical force (and I apologise for the spelling on that now), which was totally different to the normal hold onto the pole and go for a ride effect. Anyhow these girl's were more the equivalent of Intermediate One, a couple of them could go upsidedown, they could lay back but they couldn't pull themselves back up. That was funny, I got up and did it straight away after the teacher explained and did it with straight legs (harder).
We finished with free time where I could pull out any moves that I could think of. That was fun, but I had no grip, fell out of a horizontal split (not badly) but managed to pull off a few other things. I had to forget the static v and dvd cover.
All in all a great experience, the teacher was really nice. I am very familiar with my Japanese right and left now. Let's just say we learn things far more gracefully back at home and I think the teacher noticed that.
I had to run back to the Hotel to get ready for dinner and drinks with Tim. He took us to this tiny pub under the railway tracks where we talked the whole evening about Japan, work and anything else that came to mind. I drank beer then some other flavoured traditional Japanese drink. Jonno and Tim at a 4000 Yen crab ($68). We saw a coke glass that would have been 2 litres worth. You could see the smoke hovering above our heads. And then there were these stuffed chicken wings which were so good I had to order another one.
Nice and tipsy we were back in the Hotel and I was trying to at least start packing. It didn't go too well. I gave up and headed to sleep.
This is the point where we were to leave all our comforts behind, well Four Seasons comforts like directions, maps and English. We were soon to be on our own. The Hotel was kind enough to give us an escort to the first train from Tokyo to Hanioche, a bullet train (Shinkasen). We were on the train with only a few minutes to spare and like clock work we were off.
Slowly and surely you started to see snow on building tops, less buildings, little towns, Mountains with snow on top. We had neglected to think about food before leaving Tokyo and Jonno was starving. I had had a big breakfast at the Hotel before leaving so I could stretch it out longer, maybe a drink would go down nicely.
In Hanioche, the first train ended and we had 10 minutes to get on the next train… FIND the next train. Fortunately most people seemed to be doing the same as us so we followed but by the time we got to the train, there was no time to search for food. There was no luggage space on this train so we parked our luggage as best we could inside the door and took our seats.
The lady with the food cart (omg, like the Hogwarts Express but no Betti Botts Every Flavour Beans) came along and I got a coke. Jonno asked what something suspicious and dried was and the lady answer 'Beef Tongue'. I so thought he was going to get something else but he bought it because he was so hungry. He offered me one, I declined, I wasn't that desperate.
So the snow was piling up and there was a little snow outside the window, rain too. We got to this station and everyone started turning their seats around. Obviously we did the same as we realised the train came into the station and left in the same direction. We went under the long tunnel to Hokkaido (the north Japanese island) and soon enough, six hours after leaving Tokyo we arrived in a sleepy city called Hakodate.
It was raining.. Not a good thing, our Hotel was at least a ten minute walk away. Then I had no map of Hakodate so about all I knew was the general direction and the name of the Hotel. After many stops around the station (both inside and out) I took a stab at what I believed to be the correct direction. We walked in the freezing cold, I was wet, my umbrella broke and I kept having to try and fix it, my bag was heavy and I couldn't see the Hotel in sight.
There was another Hotel along the way that I had seen during my research. It was a relief because it was then I knew I was on the right street. Just in case though I walked into the Hotel and got a map and directions. I was only two blocks away. We turned up at the Hotel carrying my bag across the cobble stones like drowned rats. I felt bad as I wheeled my bag into this funky reception area.
What a relief it was when we got to the room. We must have been upgraded because our room had a shower. It was also on the 12th floor of a 13 floor building looking straight out on Mount Hakodate and the harbour on the right. Amazing view. Awesome, funky, modern room.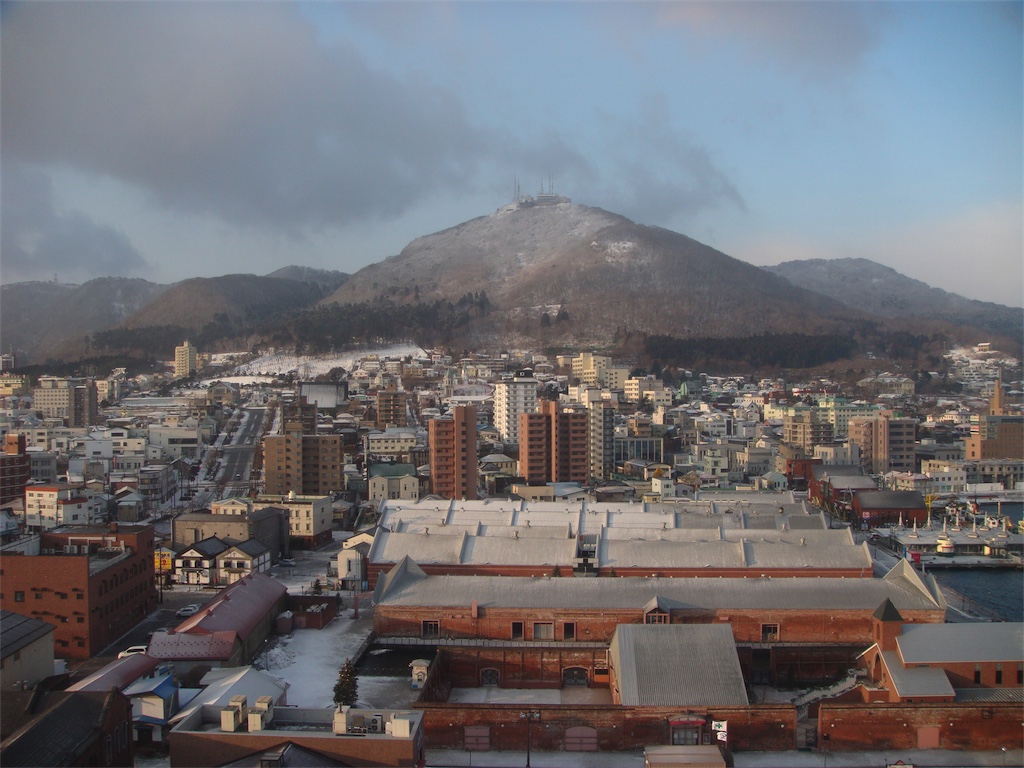 There was no denying it, we were hungry. We went down to look at the restaurants in the Hotel and settled with a Spanish restaurant because there was no English in site, at least this menu was in Spanish and we might be able to decipher it. It ended up being a pretty nice meal, but we were still hungry. We grabbed our jackets from the room and headed to the Seven Eleven across the road as we did we walked passed a sushi train restaurant.
On the way back we went into the Sushi Restaurant and Jonno kept eating whilst I waited patiently not wanting to touch a menu in case they thought I wanted something. So Jonno's second dinner we apparently very good, he said the Tuna Sushi melted in his mouth. I took his word for it.
Finally I decided to be daring and go to the Japanese Baths on the top floor of the Hotel to see what a traditional bath was like. Wow…. Indoor… Outdoor baths, Sauna, showers. It was amazing. I went at about 11pm thinking there wouldn't be too many ladies around then, but there were naked Japanese women everywhere, about 15 to 20. I just didn't want to do anything embarrassing, it was obvious I was the only gaijin (foreigner) in here but I wanted the experience so with trepidation I striped naked too.
What an experience though, a traditional Japanese bath house on the top floor of our Hotel. I was outdoors in the freezing cold but the water was hot hot so you barely felt it. The view was amazing too.
I could have spent longer there but we had an early start the next day so I went back to the room to sleep without embarrassing myself in any way.