August 2010 - Italy
---
It was crazy to think that I hadn't gone swimming in the Mediterranean, I mean it was across the road from the Hotel. It was right there! Mum and I decided that after breakfast we would fit in a quick beach swim before packing and heading off. Great in theory but here is where the private beach areas suck. We went down to reception and explained that we wanted to go to the beach.
"Certainly, we have an agreement with the beach across the road it is 65 Euro for the day.'
65 Euro for the day? You've got to be kidding me! Per person! IT'S A BEACH! We wanted to spend less than an hour down there. CRAZY! Maybe it is the aussie in me, but beaches should be FREE. I did not see any expanse of public beach looking left or right from the roof of the Hotel. Mum and I were almost in the mood to jump the fence, dump a towel on the ground and run into the water.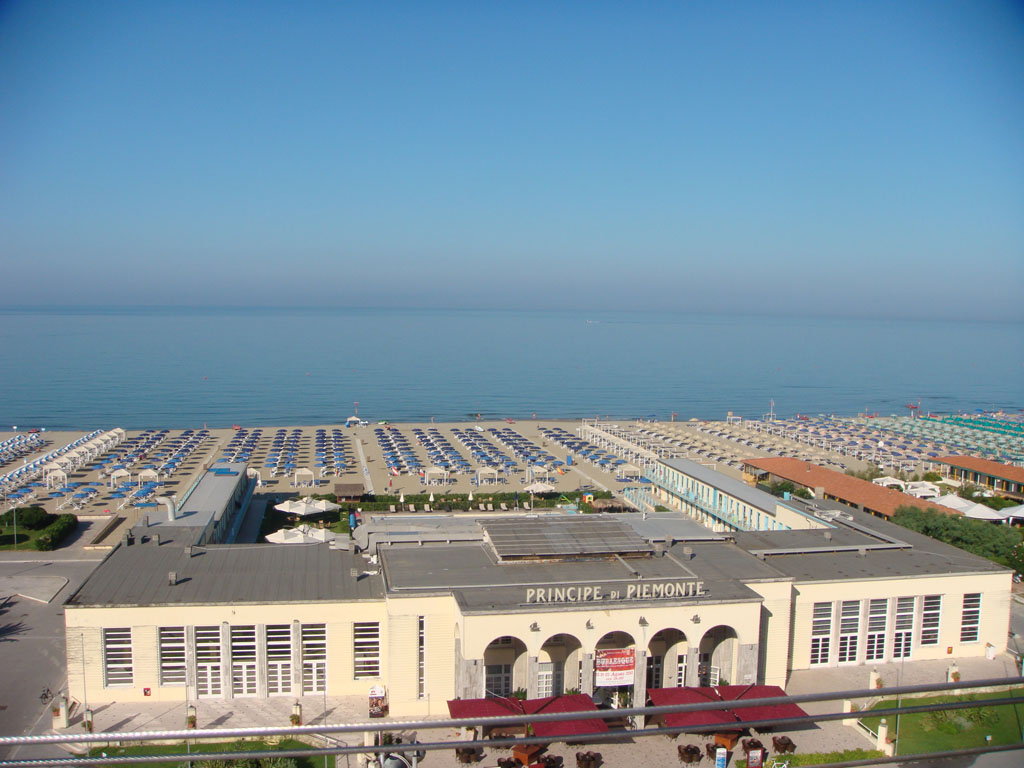 Needless to say that plan didn't happen, instead we went up to the pool on the top floor for a quick FREE dip, back downstairs and packed and on our way again.
Before Firenze we would stop to see that little famous leaning tower. I don't think photos do it justice, it really is leaning. Perhaps we try and compensate the lean in our photos, so we tried to shot with other buildings. Man it was hot though, we walked up to the main piazza back, stopped for a drink and then we were done, back to the car. If it hadn't have been so hot it would have been fun to watch all the people trying to hold up the tower, yes I did take a picture like that, but its on Mum's camera.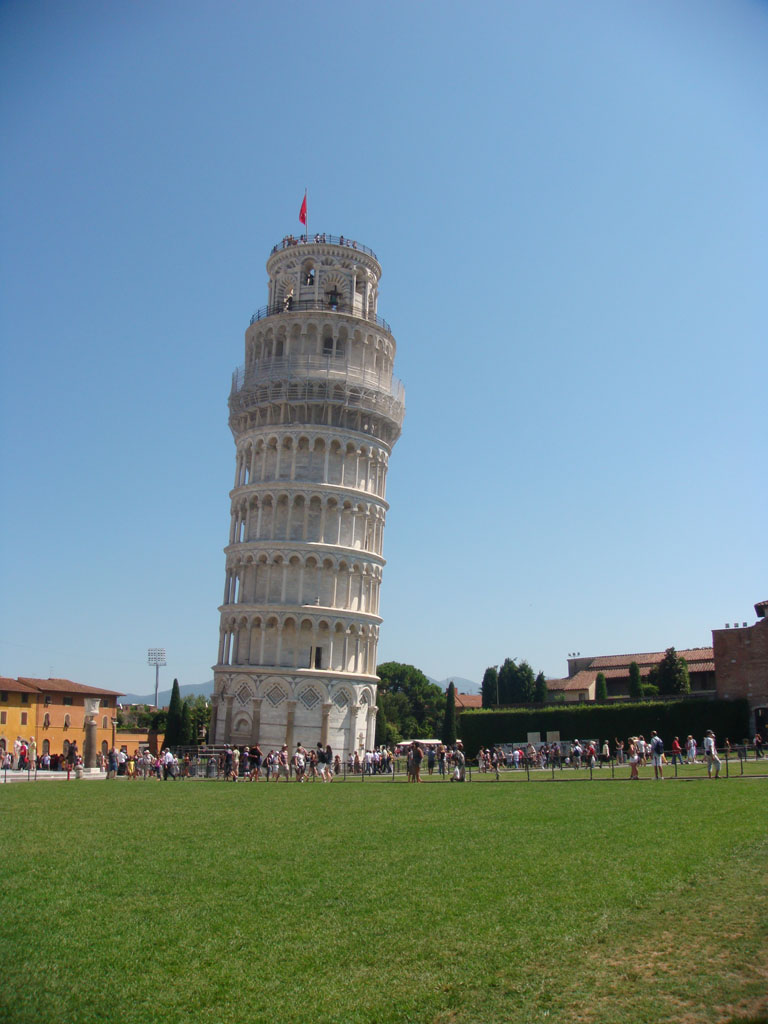 Can I just say I dealt with the peddlers in Rome, but the ones in Pisa were EVERYWHERE, following you around carparks and even after you say no they still follow and hover, even when you were getting into the car. Main streets, side streets, whilst you were trying to have a drink. Sunglasses, watches, hats. I get it, I don't want it.
I don't know what we would have done without Tom to get us into Firenze. He navigated us perfectly until the turn into the street of the Hotel, Tom said left, the Hotel is on the right… Lucky I saw the Canadian Flag and lucky there was no traffic so we could just turn around.
OMG. OMG. OMG. For starters you would not think this Hotel was half as spectacular as it is from the outside, but stepping in takes you to a WHOLE other world where golf buggies roam the largest private gardens in Firenze. I will talk more about the history tomorrow (and you'll understand why) but this Hotel took eight years to restore and it was meticulous, leaving your jaw dropping from the moment you step inside.
This is Four Seasons, at it's best.
There are two buildings that each have accommodation, the main building and the Conventio (which used to be a convent as the name suggests) that's where we are, in a junior suite and although it might not be the biggest room we have stayed in (the tv is certainly the biggest) it is next to perfect. Behind me now as I sit on the couch and type is an old painting of Firenze's main Piazza when it was still under construction. The room has four small frescoes and seven pictures/paintings. It is easy to call it home, especially when a bottle of champagne and macaroons are waiting for you.
We popped the champagne bottle and toasted before heading out into Firenze (and believe me it is very hard to leave this Hotel). Straight down the street, the looming Il Duomo in the distance... Insert scream of glee here
Now I never appreciated, even after seeing many MANY pictures that the charcoal grey you tend to see in pictures in actually green. It's imposing, huge, and stunning on the outside. I told Mum and Dad that I want to see that every day we are here.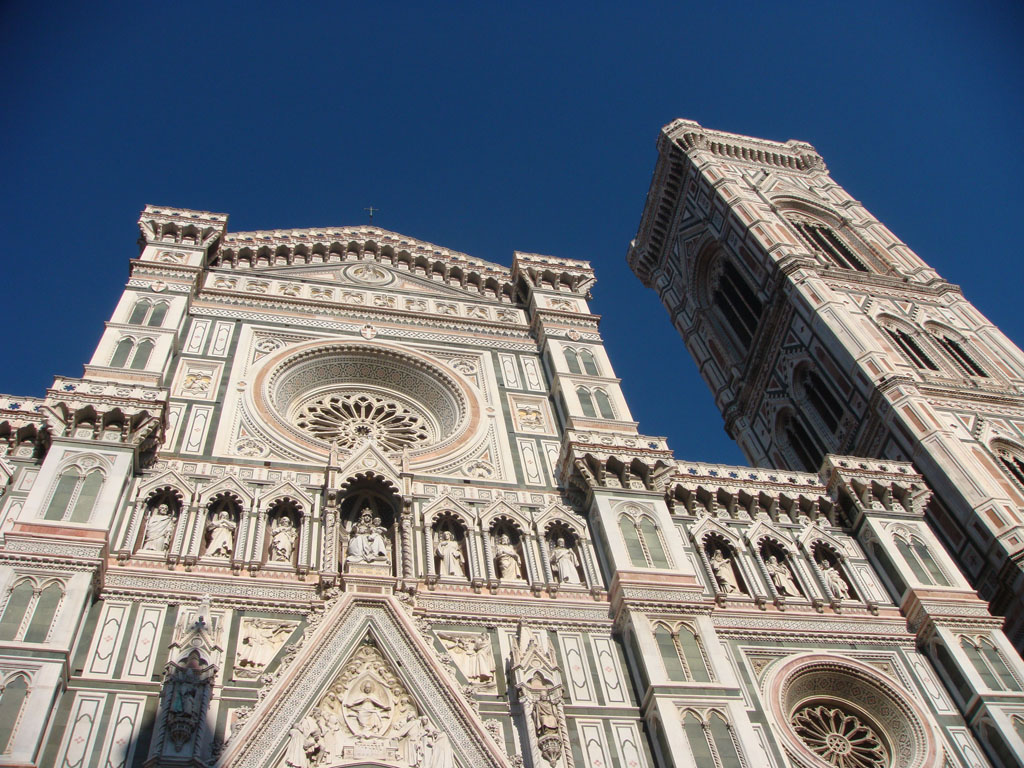 From there we walked to the Piazza Della Signoria. Mum and Dad trying to figure out where Mum got her leather jacket from last time they were here. We walked passed the Uffizi Galleries and went across Ponte Vecchio, stopping for a Gelato on the other side, heading back to the Hotel and stopping off for some window shopping and the photo above. Time to get ready for dinner.
Keeping things simple (and apparently traditional during this holiday) we ate our first meal in the Hotel. Outdoor dining, piano background music, a bottle of wine from Montepluciano (our waiter could say it so much better than us). Ravioli, Pork and Coconut Souffle with Passionfruit Sorbet. The sorbet was served on a bed of ice, it was genius, the only downside was that the passionfruit sorbet was so good I wanted to suck on the ice... I know, I know, not very Four Seasons of me. I refrained. It was a magically dinner, you could have been in a resort, not a city Hotel, eating out in the garden... Perfecto.