September 2008 - USA
---
Sorry for the delay in blogs. Whilst in Vegas I refused to pay $13 for an internet cable only to pay to get online after that.
Number of times I have been called Mrs White: Still 5 YAY! (No more Personalised Service for a while)
Number of burgers Trent has eaten: 3
I left you when I was sitting in a bar drinking a Pina Colada and awaiting Trent's return to decide on dinner. Trent did come back and then we went for another swim in the pool. The water was a little too hot, more like a hot bath than a refreshing swim but I did stay in for a while to kill some time before sunset/dinner.
Now the plan was simple, whilst I had a shower Trent would go up and check out the restaurants, decide on where to have dinner and book for 7/730pm because both of us were HUNGRY. Go figure that the first available table they had was at 9pm. So we waited, watched American Dad, 2 episodes of The Simpsons and that hour long Star Wars episode of Family Guy and then finally dinner time. This timing would have been perfect if the Heroes premiere was on tonight, alas that was tomorrow night.
Service was a little slow at first but then things settled down. We both had delicious pieces of beef and I had a great chocolate dessert that came out looking like pralines but two of them were chocolate pudding and the other three were chocolate coated ice cream.
And that's pretty much for the last day in Scottsdale. The next day we started our road trip by driving from Scottsdale to the Grand Canyon. We left around 1030am and headed north taking a small detour into a very touristy town called Sedona. Now the scenery started as desert and grasslands but off the highway winding into Sedona we started seeing huge spectacular red rock formations. Stopping to take a few pictures in this area we eventually made it into Sedona. All the shops along the main street were tourist shops. Trent and I walked around for a bit, he bought a postcard and we went to find a post office that we couldn't find with the directions we got so we stretched our legs and headed back in the car.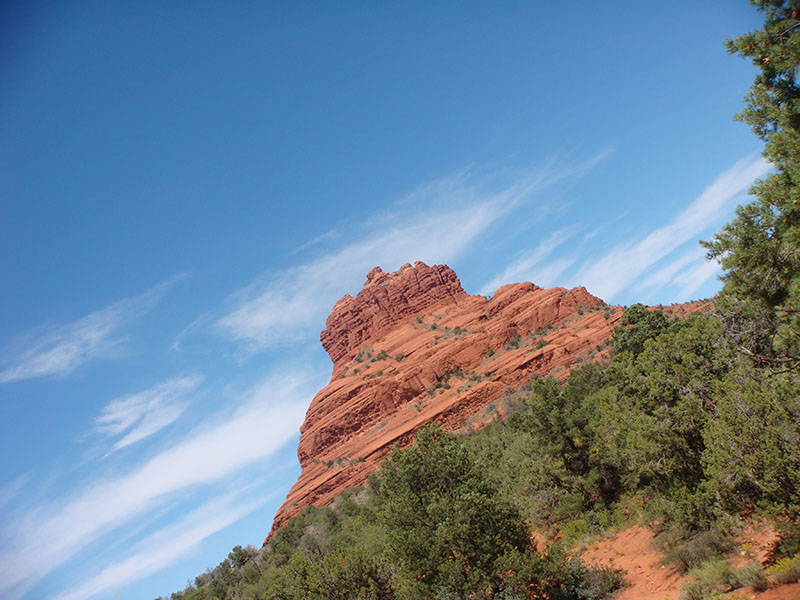 The Concierge said at the Hotel to keep driving on the back road through Oak Canyon to the highway as it was a pretty drive… a really pretty drive. We hit 5000 feet, 6000, 7000 feet and saw the landscape changed from red rocks and desert to lush forest as we keep climbing up the mountains. Now this was breathtaking, not only for the view/scenery but the fact that Trent likes to hug the right hand side of the lane and when the barrier is just there beside me, well, there were a few times I was holding my breathe, but we survived, side mirrors in tact.
After exiting Oak Canyon I misread a sign, thinking the highway we were on would link to the one we needed to get onto, in fact it probably would have but Trent turned around after about 5 minutes to take us back to the main highway because he didn't want to get stuck at all the traffic lights. We navigated the rest of the area around Flagstaff quite easily and was soon heading North to the very deserted West Entrance of the Grand Canyon National Park (because we planned to leave from the South Entrance the next day). I can't emphasise how much nothingness is out there in North Arizona on the way to Utah. Even a town on the good old Rand McNally map was nothing more than a few not so run down houses, a petrol station and a tiny business area that had a Hotel.
On our way in we had a truck in the left lane stop on the highway because a wolf was just walking down the fast lane like he owned it. We went slowly past and saw in the distance the wolf eventually getting the hint and then running over the other lanes of traffic to get off the road.
We entered into Navajo country and finally turned off to head in towards the Grand Canyon. Now all along this entrance road were spots of weathered tables and do it yourself shelters, some with open signs and others completely deserted. This is where the Navajo Indians come and sell you their trinkets. We stopped off at one point to see some of the Canyon outskirts and out of 30 stalls only about 5 were opened and the strangest thing was that there were signs everywhere, that they accepted Visa and Mastercard. I can't tell you how odd that was in the middle of nowhere, but I guess that is what they advertise.
On our driving adventure there were funny signs or businesses along the way. Sadly the camera was too slow to catch some of them but I remember a couple.
"Big Ass Texas BBQ"
Classy. Is there even a version of a small Texas BBQ?
"Friendly Indians Ahead."
Sidenote: That want to sell you stuff.
Paying our $25 to get into the National Park (this would last us 7 days if we wanted to stay that long), we entered the National Park, literally turned one corner and there out the side of my mirror (I was reading a map until Trent verbally gasped) was The Grand Canyon. Wow, makes all other Canyon's look positively tiny. Utterly spectacular and I can't describe how amazing it is so I'll just stick with pictures.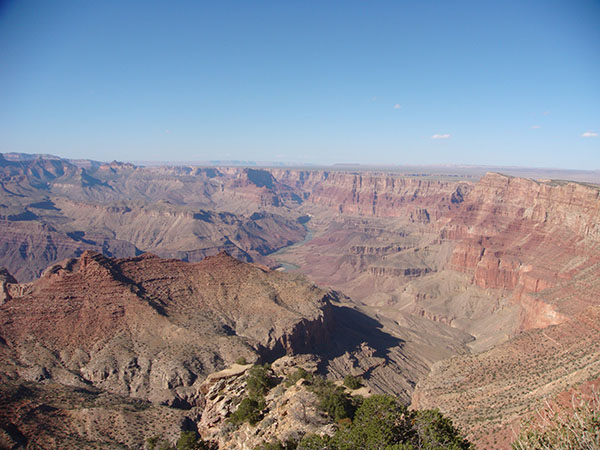 We spent the rest of the afternoon moving from lookout to lookout, surprised to see how much bushland there was in the area. Eventually we made our way to the South Entrance and to a town of Tusayan on the outskirts of the park where we were to spend the night. Once again this town is on the Rand McNally map in all its one street glory. Imax, Pizza Hut, Wendys, McDonalds, a petrol station, general store, bakery, post office, our Hotel and a few other specialty stops.
Now our Hotel was quite nice, but it was certainly no Four Seasons. We checked in with a young lady that wore those big nerdy bullet proof glasses. You know the ones your grandma might wear, really cool. Our room was comfortable, but for some reason (and we are not sure if this was in all rooms) our quilts lacked covers….
At about 5.30pm we headed back to the park to get a vantage spot for sunset. After over hearing a lady at one of the stops saying go to the Yavapai lookout for sunset we went there and successfully avoided most of the people that camped themselves around the Visitor Centre lookout. We waited until just after 630pm for the sun to set, took so nice pictures and headed back to the Hotel via McDonalds and sat on our beds watching the lead up to the two hour season premiere of Heroes. Trent kept falling asleep watching Heroes, of course I stayed up for the whole thing… SO COOL. It wasn't a great night's sleep, it was a far cry from Four Seasons comfort.