September 2008 - USA
---
Ongoing count of me being called Mrs White: 3
Number of burgers Trent has eaten to date: 2
The start of the lazy day wasn't exactly lazy. Although we both slept in for a bit we soon took a walk down to the lap pool and started swimming. Trent suggested we race for 50m, but that ended up being 25m when he stopped at the other end because he was buggered. Trent swam it in about 17 secs, I took 20.
Soon we were all lapped out and decided to move to another pool. It's not the main pool because that was closed for renovations, it was the one next to the Kiddie Pool, let's just called it the Kiddie Pool. This was the perfect place to people watch. All the families with little kids, all the honeymooners, the Japanese tourists and the baby boomer couples. We spent lunch there, was given a free ice block, you know the flavoured sticks that we used to have in our canteens at school.
Now I must insert this picture of the kiddie lounge chairs…. Way too cute!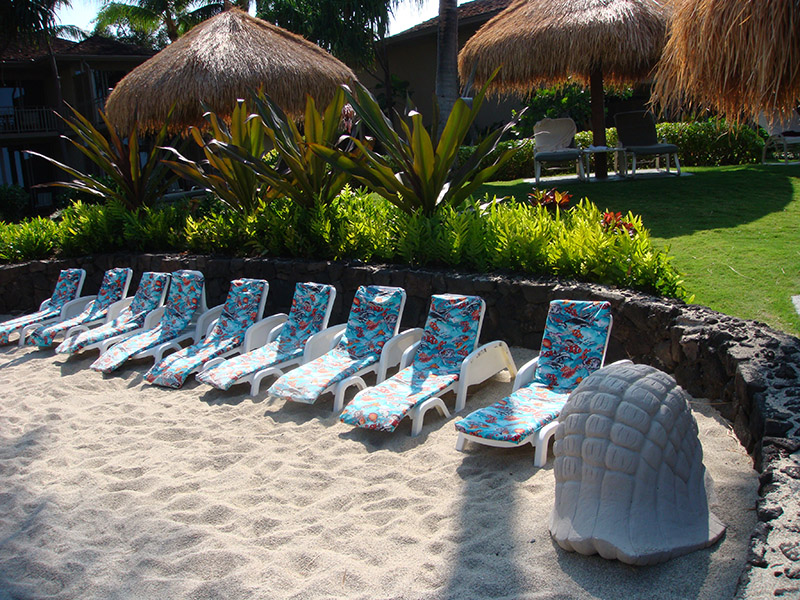 Since I've pretty much covered the majority of our day in two paragraphs you would be right in thinking that we did absolutely NOTHING today. Pool, book, pool, book, lunch, pool, iceblock…. Yep, that's how our day went.
At about 4pm we wandered back to the room to start getting ready for dinner with Jessica and Graham. We cracked open the champagne that they had left in our room and started getting ready/packing for tomorrow.
Jessica and Graham picked us up from the Hotel and to Trent's delight took us to a steakhouse. I believe his comment at the table was something along the lines of (when the meat came out), "This is what I've been waiting for, just meat, no greens, nothing on the plate but meat." Yes, I think this made his night. There was much talking, much laughing and the regret that I should have ordered the lava cake like Jessica did.
Since it was Graham's day off today he was in charge of organising dinner, he was all about the steakhouse and had to call us to be ready 15mins earlier than we had organised with Jessica to catch the early bird special. Salad, Entrée (Main), side and dessert. I was so stuffed and I'm sure Trent was too.
Then there was the awesome TimTam moment that I couldn't have planned any better. Through our conversation Jessica started talking about TimTams and it was clear this was one piece of Australiana she missed immensely. So into my magical handbag I went, digging for a bit and then out pops… Oh yes, the TimTams came out, Jessica look was priceless, we all just started laughing, she had no idea I had bought them for her.
After dinner we headed down to the Mauna Lani Resort and took a walk around. Jessica and Graham showed us where they were going to be getting married next month (so exciting!). They showed us a few Rumba moves to test the dancefloor (which will be their first dance) and described everything. So in a month when I am back at work I will be imaging what I saw tonight full of life on their Wedding Day.
My bag ended up being 7 pounds overweight (57 pounds Mum, not much heavier than when I left Sydney), so I opened my bag, ripped out my wetpack and thought I was going to have to take out more when the lady said. "You're fine now, whatever you took out made a difference." A sigh of relief, as I didn't know anything else in that bag to make a difference.
So now I am the plane to Pheonix after a two hour stop over in Honolulu. I had Burger King, a double bacon cheeseburger which I started to regret about halfway through, and of course the smallest cup I could get was our Large in Australia. Needless to say I got some help finishing that. Hawaiian Airlines wants me to spend $5 for a headset, or even to use my own headset to plug into their entertainment system. I'll sign off for now and watch my own dvds on my laptop, I can wait to see Meet Dave some other time… if ever.