August 2010 - Italy
---
Oh I did not want to wake up this morning but thankfully I had packed some of my bag the day before so it wasn't nearly as bad as it could have been.
Over breakfast our favourite american family was there, the father talking to another guy from the states three tables away. It was hard NOT to hear them give each other their life stories. He is in the movie production business, the other guy was in real estate (I mean this just says it all doesn't it). The movie guy is the same guy who's kids have been ruling the pool for the last three days (and the spa showers) and even Dad… yes, DAD commented on how much of a slob he was. I hate the idea of thinking there are people out there that just take FS for granted, it's like FS is being taken advantage of =( Ah well, we get their money in the end =)
After a final coffee with Elisa so Mum and Dad could tell their story of the gigantic steak we were off to the land of the prancing horse, Marinello… Ferrari Land. And Ferrari Land it is. It's like a town purposely built for all those employees in red. The factory is HUGE and heavily secured. At first we parked in the factory employee carpark but after a few steps realised we must have been in the wrong place and drove around a bit more to find the Ferrari Museum.
FOUND.
Compact but great museum. First level is devoted to F1 mostly up until the 80's give or take. Cars from 1947 and matchbox cars of every year since then in a cabinet. The evolution of Ferrari F1. SO COOL. Upstairs you found the old and the new Ferraris, from the F40 and F50 to the latest 458 (in yellow, didn't look as good as red). Speaking of Ferraris did I mention when meeting Elisa two nights in a row I had to walk through the carpark? Our Passat, Red Ferrari, Grey Ferrari. Next day, Black Ferrari… Do they fall from the sky here?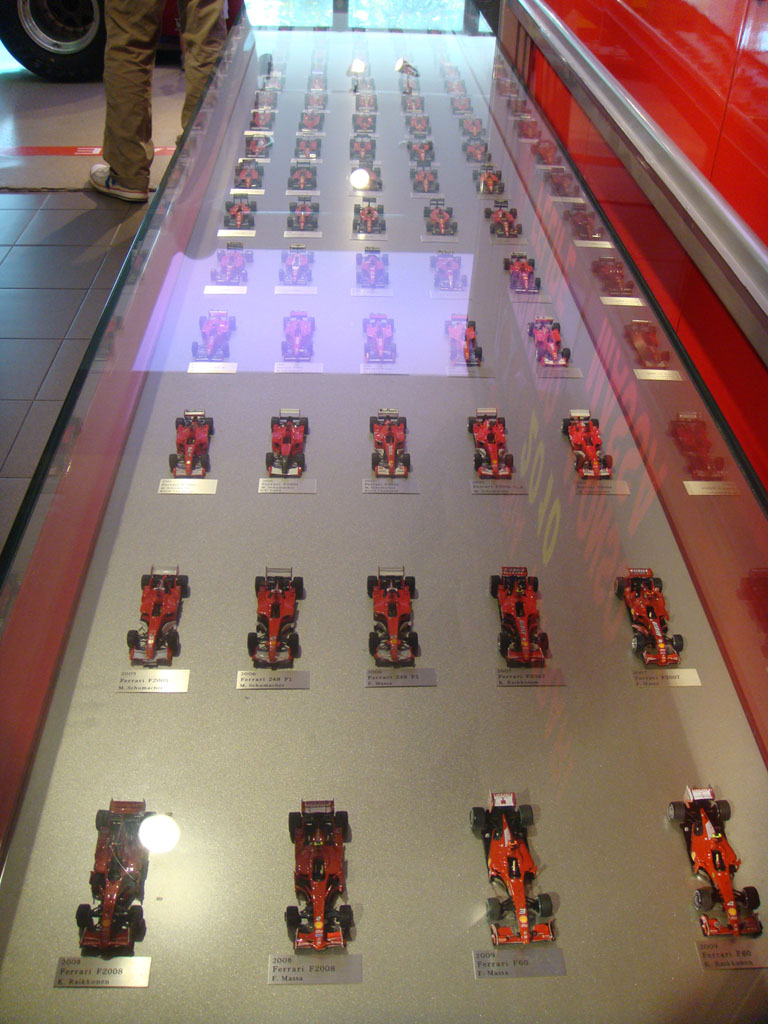 In the following room was all the possible paint colours and interiors, the steering wheel evolution on the F1 cars (its luxury now, you have a drink button to serve you a drink) and in the final room was the best. All F1 cars from the championships they had won since 2000 (what is that, seven or eight, mostly Schuie) AND all the constructor's trophy and man are some of those big and ugly. Australia's ones are pretty boring, just a plate, but to think that I had probably seen those races… I'm not the biggest ferrari fan but I enjoyed the nostalgia.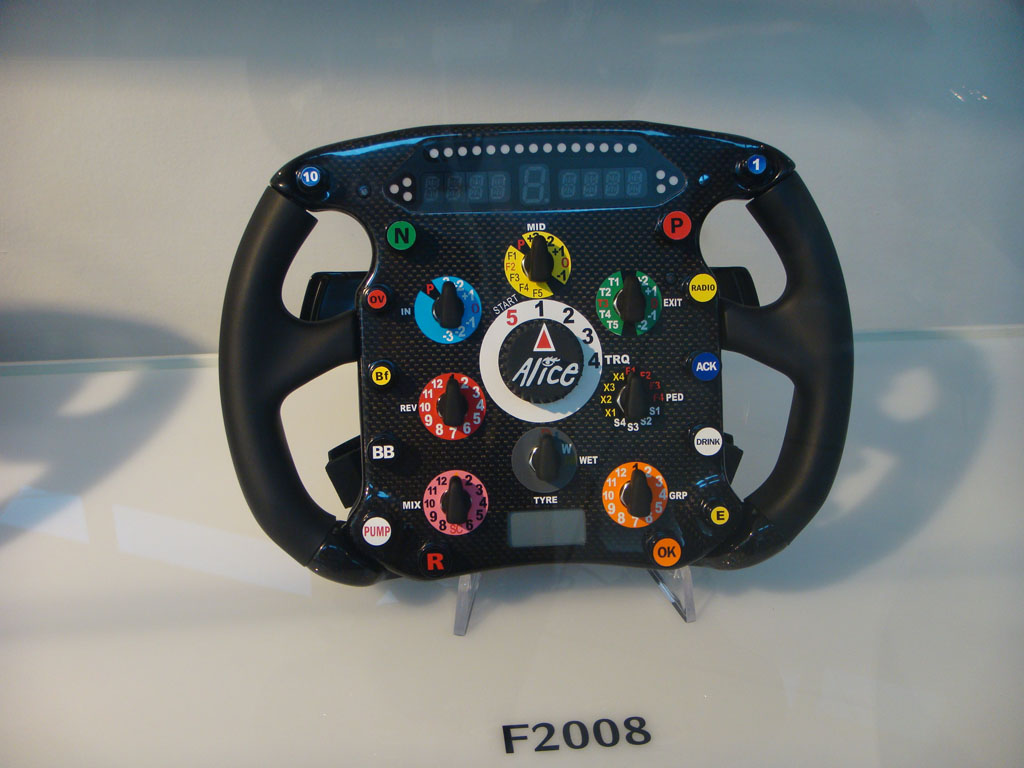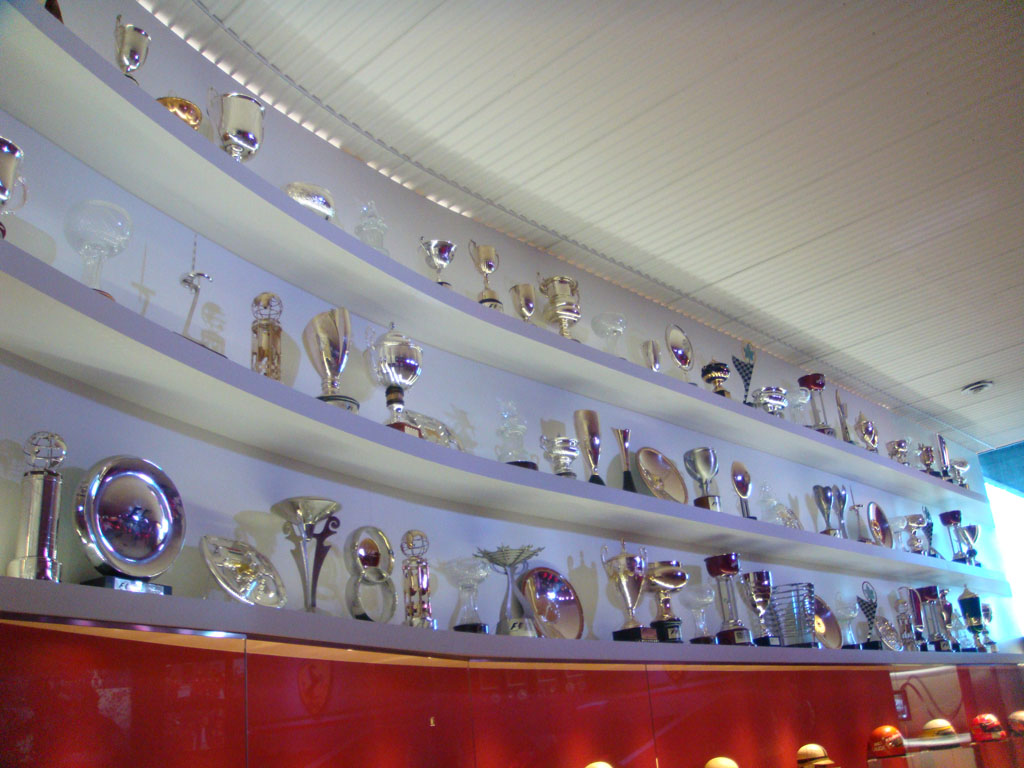 We bought a little something to take to the races next year at the Ferrari Store. An oversized but very funky lunchbox and I've been told that if a particular person doesn't like this then he won't receive any cold drinks or goodies from inside. Even better there is not one, but two of these so any McLaren supporters in our group might need to walk ten metres ahead =)
Still 200km from Milano, outside the Ferrari Store, we sent Dad back in to buy the hat that he really wanted, that we told him was something from the 80's and he didn't buy at first because of that. Mum and him then wandered down to the test drive store across the road (there are a few of these around) where you can drive the latest Ferrari not yet released in Australia for $100…. For 10 minutes and by drive I mean with supervision around the town so it's hardly a drive in a car like that. We were running out of time to get to Milano so we passed.
A long car ride later and one stop at the Autogrill we stumbled into the Four Seasons Milano, now its no Firenze but they still upgraded us to a suite (separate living and bedroom area), gave us a free bottle of champagne and petit fours and fruit and water. Not bad, not bad at all. And in an hour's time we had someone to share all these freebies with.
Our cousin Tali has been living in Milano since June and was two days away from moving down to Roma. We were VERY lucky our paths crossed. We polished off the champagne in our room and then jumped on a train, walking out of the Il Duomo station with the massive Cathedral right in front of us (there were a lot of stairs Tali, but I think Mum knows it was worth it). Then we did what the locals do, jumped on a tram and headed out to Tali and Justin's apartment in the burbs.
Four Pizzas, a four euro bottle of wine and some Toberlone cost all of about 25 Euro. Wine in Italy is ridiculously cheap, there are no taxes so it is perfectly acceptable to buy a four euro bottle of wine from the store and expect it to be drinkable. But that's around 5 Euro, per person for dinner, WITH wine. Tell me that happens in Sydney. We didn't even finish all the pizzas. I love how cheap and GOOD the food is… Did I mention the pizzas were great?
When we looked at our watches again it was 11pm and time to be heading back to the Hotel, we were happy to catch a tram but there was a problem, no ticket and all the shops that sold them in the area were closed. So we tried to catch a cab, that didn't happen either because there were no cabs. In the space of half an hour I saw one vacant cab and I'm sure he saw us but didn't want to know about us, so with no ticket we jumped on the tram and headed back to the Il Duomo hoping at this late hour no one would be there to check. Fortunately it was the last stop because we realised as we were standing on Tali's street that none of us had a map. We SO could have ended up lost but instead we just got a free tram ride.
And that was our first night in Milano, breaking the tradition of eating in the Hotel, it was worth it for a bit of home in Italy.