August 2010 - Monaco
---
Things are slowing up. It now takes over two hours to get going of a morning. An hour to get ready and an hour for breakfast. The changing of the guard was 1150 and even with a taxi we didn't arrive until just before 1130. How am I ever going to go back to work?
We managed to be in the front row of the crowd to watch the changing of the guard, which was cool. I just didn't appreciate this girls hair brushing against my back when I had purposely tied mine back. It was hot again and with the full sun, stagnant crowd around us for half an hour, sweat was dripping down the backs of my legs. I was so glad when that was over.
We headed for shade in the Cathedral and saw where Princess Grace lies. It is a very well kept Cathedral, not as old as the many we have seen in Italy but it does have its charm. We wandered though the souvenir stores and found one gigantic seagull before heading down the stairs and back into the city.
Now we had Concierge dot out the F1 circuit on a map. Think Dad bought the map? Which then led to arguments involving where the exact location of the start finish line was. We were halfway up the first hill when I finally realised where it was. Oops. It's pretty hard when there are no grandstands to imagine it being a circuit. It's so narrow, no wonder there is rarely any overtaking.
We walked the circuit back up to the Hotel (top of the first hill just before the casino), had a drink and headed back out WITH the circuit map this time. Passed the Casino, down the hill to the tight u-bend just outside the Fairmont Hotel, down and into the tunnel and along the water where all the yachts and cruisers were. I wouldn't mind travelling around in one of those boats and about 80% were flying Cayman Island flags… funny. There was even a boat called 'Natali' hehehe.
French Gelato is not as good as Italian ☹, still it was refreshing to be out of the sun for a little bit. We thought we were sitting in pit lane but it turns out that was a little farther down the road we were on. We were sitting where they usually have grandstands, but who really knows, there ain't a lot of room around here at all.
We took the opportunity to use some of the public escalators to get us back up the mountain, one worked, one didn't, then there was an uphill stretch before some downward stairs. Endless stairs that conveniently led us back to the bottom of the hill we were originally tried to avoid. By the time we made it up there again and walked around the air conditioned goodness of Zara Mum was buggered and we thought, let's relax in the room until dinner… GREAT DECISION!
Dinner was absolutely AMAZING! We were sitting out on the terrace overlooking the Harbour, the Castle, basically a chunk of Monaco and the food drool So beautifully presented, so yummy to eat. I had Rack of Lamb with Olive Crust and Tempura Vegetables. Someone please tell Frazer that I ate ALL my vegetables =) Soooo good and that was even before we got to dessert. I'm not even going to talk about the whole sea bass with salt crust Mum and Dad had. Dessert though… there was a souffle MENU, there were like five souffles on offer but who could ever go passed chocolate souffle? There was no sharing allowed, but I must say it almost defeated each and every single one of us because it was the biggest souffle I had EVER seen (and that is not an exaggeration). It looked like a cake that's how big it was. Ok ok, looks good but what about the taste…. Heaven on a spoon.
Oh and whilst I think of it check out the view…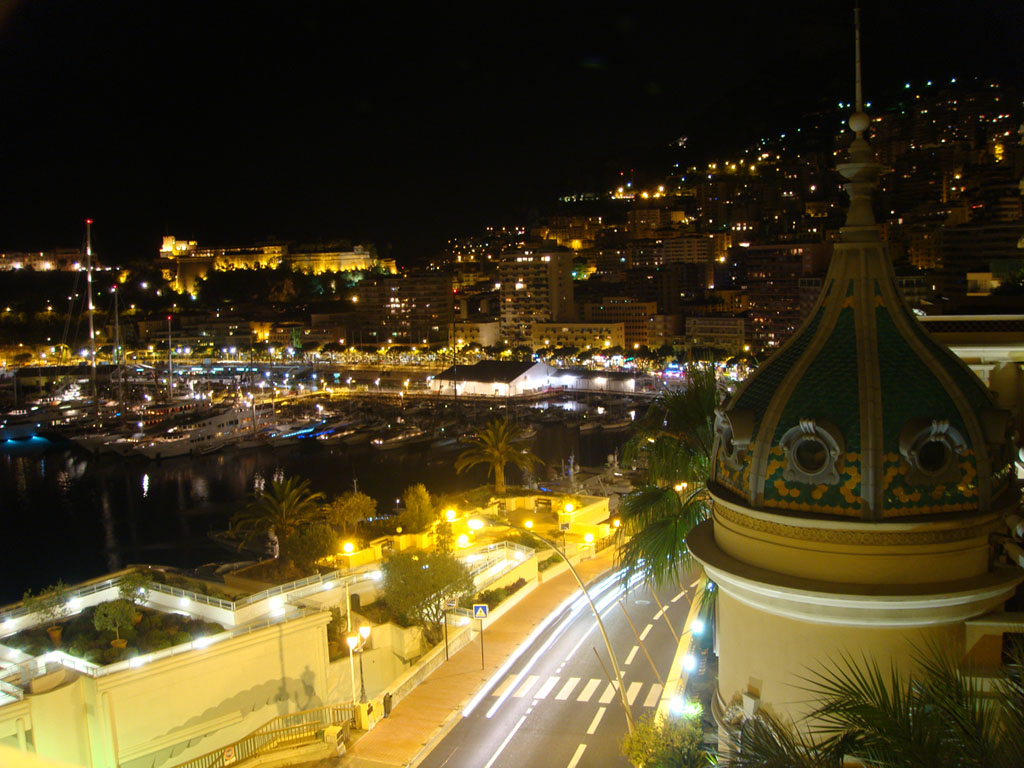 After dinner we headed for the Monte Carlo Casino planning on making use of those gold cards that gave us free entry (did I mention that? The Hotel is part of the Casino property group and your room key is basically a free pass into everything they have to offer (food and bev additional… damn). Anyhow we got into the Casino for free, our pass valid for a week (shame we won't be using that again).
All other Casino's are NOTHING like this. Each room is a picture (shame you can't take any), beautiful ceilings with gold. You walk into the roulette room and there are all of ten tables and only five of them were opened when we were there. We walked into the blackjack room where this loud Russian is giving grief to someone for something pulling out a wad of 500 Euro notes from his jeans pocket (Mum and Dad said they have gone easy on the jacket policy since they were last here). There was a room for the pokies and a private room with more tables. There was one more room but that was all closed up.
When I'm in these places I usually have a bet, so Dad exchanged some money into chips at the change counter and we go and scout out the tables. I was a little hesitant to play on the 5e, you could barely get close and there were standard chips being thrown around like candy on halloween, also it was the French version of the roulette table and I couldn't quite figure out what was happening. There dealers were on the table and even though I'm sure people were asking them to place bets it was like they were betting and just throwing money for good measure on the board. I moved away, finding something I could get my head around. Ah, Anglais Roulette, 10e minimum, I can do that… or so I thought.
There were two tables, three Indian guys going hell for leather on one and a mix of people on the other. When they were out of money they would throw another 500e on the table and exchange for chips. Oh and there was this weird English girl sitting at the table with the Indians, not betting but behind her was an ipad… wtf? That table, no thanks.
I focussed on the other where the board was so full from three people's bets that you could hardly see the board. I saw the ball land on 23… TWICE and the guy playing with yellow raking in the chips. There was no way to get in there. We saw someone try and make a bet and he was turned away because I thought the ball was slowing and there were no more bets, unfortunately that wasn't the case.
I sent Dad into place the bet, but no sooner did he go to place it the dealer speaks in rapid French that he can't, telling him to go to the other tables (the 5e tables). I don't blame Dad for taking the chips straight back to the cashier and getting them exchange (although I would like to have kept one, I would also liked to have placed a bet but in reality that was never going to happen). I'm assuming that the people on the table didn't want anyone else playing or something like that, or because we weren't dropping 500e at a time on the table we were not worth the time. It was a 10e table, Dad put 10e on the table. If they don't want our hard earned money then fine. We'll walk out no worse off than when we walked in.
Dad has been rough on that ever since, hell even I'm a little rough on it too. It was an unfortunate let down to an otherwise AMAZING evening.