August 2010 - Italy
---
2 nights of peace was not enough, would have been nice to spend an extra day in Torgiano, relaxing by the pool, barely a soul in sight. Like I said, would have been nice.
But pressing on I had a hot date with a man named Tom in the back seat of the car.
To Montepluciano (and do not ask me to pronounce that), a small town about 20km off the main autostrade which meant that we were driving the back streets of Tuscany to reach it. Fields of grapes and sunflowers, just beautiful and then when we finally reached Montepluciano the view was impressive (see photo at the top of the blog).
But once again it was a town where you parked at the bottom and walked uphill. For a small little town the main street was covered in food places, butchers, wine merchants, pastry shops, restaurants. The town itself had a wonderful kicked back feel, like it was off the beaten tourist track and we were thankful for that after Assisi yesterday. We spent a couple of hours wandering around, Dad finding a beautiful stationary store and buying two pens (he has a habit of losing them).
So Montepluciano was my idea, San Gimignano was Mum's and Dad didn't tell us where he would like to stop on the way so he didn't get a choice (which is lucky because it ended up being a VERY long day). San Gimignano was like Assisi, filled with tourists and would have been nice if it wasn't. Took forever to find a parking spot and when we finally did it was extremely tight.
I really need to carry 50 cent coins with me. Toilets are 50 cents and although every time I have had a dollar the stupid machines (a) don't offer change and (b) only take 50 cents or less. VERY frustrating.
Mum, not being one for heights did not jump at the opportunity to climb one of San Gimignano's thirteen Medieval Towers, but I certainly did and Dad of course was happy in tow…
"You go ahead, I'll meet you up there."
Sure Dad! And the view….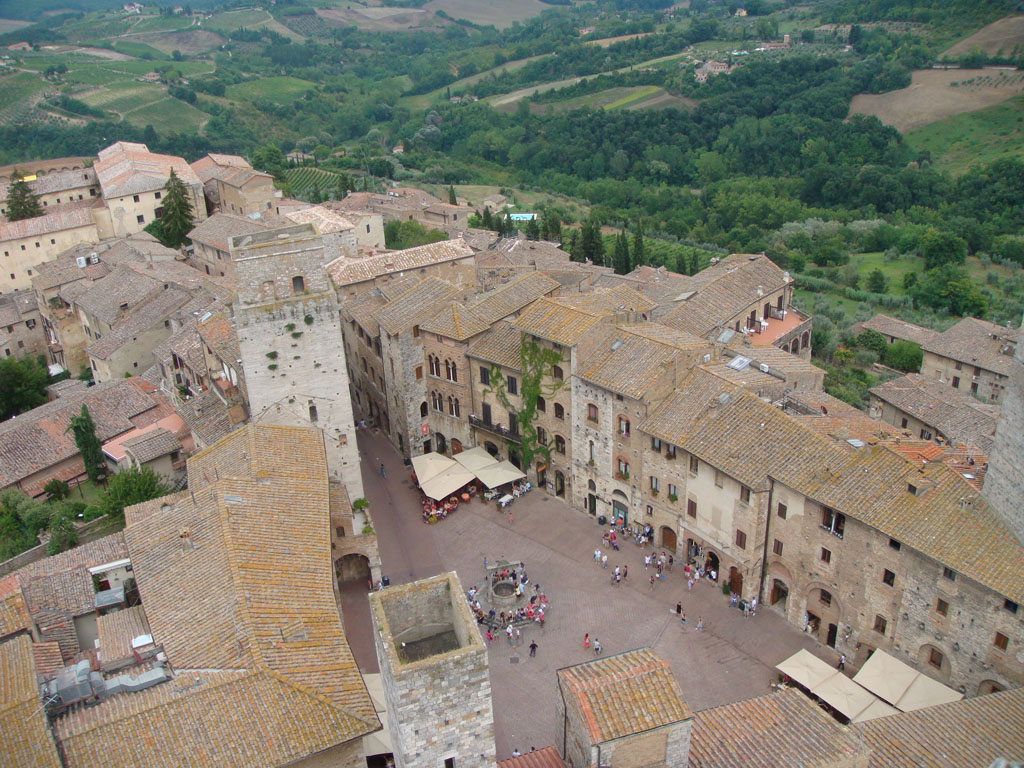 Now this is where things got a little hairy with Tom Tom, the clouds and the twisty roads completely confused him. So did Dad actually because he didn't want to take the quickest route which was through Firenze. Tom Tom told us to turn around only to lead us back into a closed off street and then he couldn't keep up with the rate Dad was turning corners, then he would give up for a few minutes and say he lost satellite link, when found again according to him we were in the wine fields.
I saw our way out and I'm only quasi sad to say (because it got us out of a pickle) that it was Twilight related. Obviously the town of Volterra had caught my eye earlier on the map and I therefore knew exactly where it was and knew it would led us to a road that we could use (the road Dad wanted to end up on). So we ended up seeing Volterra on the side of the mountain, I didn't go so far as to turn off the road and head into the town though, I may have read the books but I am hardly a fan.
Back on some form of major road without the twisty bits Tom came good until the double roundabout entry into our next stop Viareggio. Viareggio is basically a straight shot west of Firenze right on the coast. It's an old style Italian holiday spot where there is no public beach area in site. Our Hotel is a Grand Hotel that sits right on the promenade, it's old style, there are four floors… Can't remember what the first floor is but 2nd is Art Deco, 3rd is Moderno and the 4th I can't remember either (I need to get in the lift again). We are on the Art Deco floor, overlooking the endless beach in either direction, our room is huge but I am still on the couch (Mum calls it the Cleopatra Lounge). The bathroom is easily the size of one standard room. Like I said, grand old style. It will do for two nights… easily.