September 2008 - USA
---
Trent was up a little earlier than I would have appreciated (around 630am) but he is excused because he hadn't been feeling well since a bad night's sleep at the Grand Canyon. Anyoo we both got started pretty earlier, went down to breakfast and then there was some time burning to do because most things in Vegas doesn't start till 10am (except for the gambling).
I left Trent at the Hotel and headed North up The Strip, I was determined to get to the Fashion Shopping Mall around 10am to not waste a minute of prime shopping time ☺ I wandered up The Strip, without walking into the Forum Shops, and made it in perfect time to the Mall. The Mall is opposite the new Wynn Hotel which has been opened for about a year and looks, from the outside, a very classy building (plural if you include the soon to be opened Encore Hotel in the same complex).
So the brief version of my shopping in Fashion Show Mall: Swarovski; An awesome little dress store (Betsey Johnson); Abercrombie & Fitch (again); Macys and Banana Republic (Round Two, far more fruitful). Back to this cute little dress store because I had so much fun in there, I have never seen a store where I liked so many dresses, there was such a variation in styles and COLOURS! The shop assistant was awesome and got me to try on a few dresses including this really REALLY bright green dress; this clubby black dress. In the end the decision was easy, it was the dress that caught my eye in the first place. A Bright Blue little number that is totally adorable and fell in love with straight away.
Sadly somewhere between the Swarovski store and the Bright Blue Dress I lost the back of one of my Tiffany earrings. FORTUNATELY the earring stayed in and when I realised took it straight out and tried to back track my steps but couldn't find it. In the back of my mind for the rest of the morning was the need to get to a Tiffany store to fixed this little problem. In the meantime….
After a far better Banana Republic experience and chatting with a really nice shop assistant there (he was from Hawaii and he had just been back home, the same time that I was there) I headed over to the Wynn to have a look around. I went into Dior and started chatting with another shop assistant who was planning a trip to Australia with his girlfriend in February. There was a divine little bag for the small price of $2300. I feigned interest after that point (he probably took me as a serious sale due to the many bags I was carrying at the time) and walked out more disappointed that there was no Tiffany store in site.
Nor was there in the Grand Canal Shoppes and I completely forgot to go and take photos of the main foyer due to the rush to get to Tiffany's and get back to the room at the promised time so we could call Mum and Dad. The first Tiffany's I found was in The Forum Shops (surprise, surprise) where they found a spare back, did not charge me for it AND offered to clean both my earrings for $5. I also managed to get back to the Hotel for the all important 2pm check in with brother and parents.
After that it was Wedensday, Round Two, Trent wanted me to look at a couple of stores with him at The Forum Shops (no objections from me) and I took this as a good opportunity to exchange a top at cK because I had picked up the wrong size in my haste the afternoon before. After that my feet would take no more, they needed a break. Trent and I stopped for a takeaway pizza at Snacks (Mum & Dad that's the place we went to before we went to 'O') and then I headed down to the pool for a brief encounter with the sun.
The pool area at the Bellagio is HUGE. There are three big pools, two of them 50m in length. Hundreds of Lounges, a pool café, Private Cabanas skirting the grounds, a shop to buy all the sunscreen you might have forgotten and enough flesh to keep you interested for hours. I only spent an hour down there because there were things to do and places to go, also I got over where my lounge was, right next to this couple that weren't coming up for air very often… NEWLYWEDS!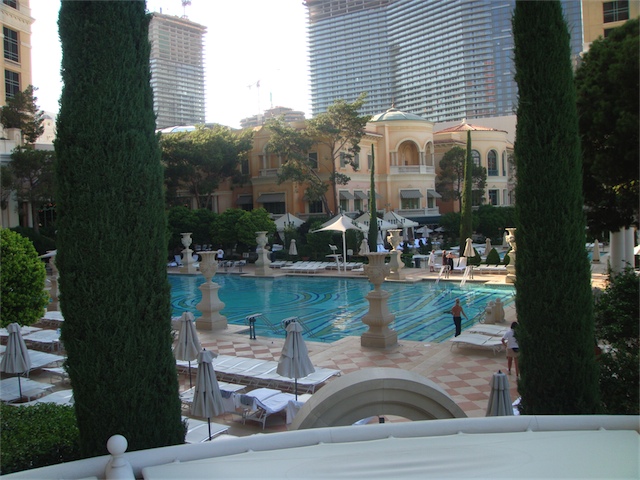 Dressed up to hit the night Vegas I headed up the Strip quickly to pickup my earrings and then made the VERY long walk down to MGM Grand. As I was walking through Caesars there was many people waiting for the Cher show, only there were Ushers outside handing out notes to the guests. The show had been cancelled for the evening. I just thought to myself how horrible that would be for a Cher fan (or for any show to be cancelled). To come all the way and buy your tickets (probably in advance) to be denied at the door when you were all dressed up.
Anyway, back to my walking/shoes. Fortunately I was wearing my tiny heels because I never would have been able to do that in my proper heels. Even so, my feet were P-A-I-N. I was heading down to MGM for my first Cirque Du Soleil experience of this trip. KA, the permanent show at the MGM. I made it down to the MGM at around 8pm and wandered around for a bit. After the late afternoon pizza I wasn't very hungry so I just grabbed a $1 Sprite from McDonalds at sat down in the Food Court for a little while (my feet said YAY!).
Soon enough I was back on my feet standing in the queue to enter KA. There must have been a very tight turn around because there was a 730pm show that walked out as I was standing in the queue (our show was to start at 930pm). All the ushers were wannabe actors dressed up in KA costumes, they were having fun with us. At the door the guy that scanned my ticket, took my ticket, eyed it like it was a fake and looked at me, I smiled back, he scanned the ticket and said, "Well I suppose I have to let you in now."
The KA Theatre was huge and EXTREMELY high tech. There was (this is the best way to describe it) a permanent scaffolding on either side of the theatre. The stage (if you could call it that) consistent of a huge void emitting smoke and periodically fire. The small wooden walkway was the only thing separating the audience and the stage. I was in the third row, almost dead centre and all around me people were getting their KA photos taken. I was not asked, possibly they thought I was waiting for someone, perhaps they don't take 'singles' photos but afterwards I didn't care, they wanted $25 for the photo and I would have said no anyhow. Before the show began we had an usher guarding the sacred boundary of the stage, of which a lady decided to throw up on. It was then all walkie talkie for the housekeeping staff to come and clean it up before the show began. It was also funny because there were speakers in every seat and I kept watching the drunk people wondering where the sound was coming from and checking under their seats to find out where the cable led. Too funny!
The show began with a guy dressed in an Asian style wearing those high Geisha shoes walking across the walkway. He is met by another character and both of them end up being the evil dudes in the performance. However they picked a plant from the audience, did a cute little skit throwing an oversized camera and his actual mobile phone into the stage pit… and then him. Which even though he was a plant, it was pretty funny.
The performance itself was good, but the staging far outweighed the performance and I hate to say it but it was a step up from 'O'. All the stage pieces were on hydrolics, so they were moving and tilting from horizontal to vertical. There was one part where they started with their largest stage piece (as wide as the stage) covered in real sand. Anyhow after they did the sand scene, they slowly tilted the stage piece towards the audience and all the sand ran off into the pit. AMAZING. They then used that same piece to signify rock climbing and an arrow attack. Although there was some lighting effects simulating the arrows being shot there were real arrows being shot across the stage. You could hear them hitting the safety grates in the wings of the stage.
All in all an awesome performance with mind bloggling staging. When they weren't using the stage pieces they were flying right over my head and landing just in front of me. Throwing confetti and snow, needless to say being in the third row meant most of this rained down on me. The 'acts' weren't overly spectacular with the exception of the Death Rings at the end (I can't remember what they are called).
After KA the plan was to visit what they call the 'Ultra Nightclub' Tabu which is in the MGM, only problem was it as closed on a Wednesday night and with a lack of motivation to go walking to another club I started heading back to the Hotel, taking some night time photos and drinking a Starbucks Hot Chocolate on the way. I was walking along The Strip with a couple of very loud Americans behind me. At first the conversation was all about him, then about Death Valley (which obviously I tuned in for). But after that the conversation moved to single girls in Vegas, which was obviously directed at me walking in front of them. Let's just say that by the end of it I wanted to turn around and abuse him, or hit him because he didn't even try to keep his voice down and he was speaking out of his ass. I satisfied myself with turning into the Bellagio Hotel and watching Viva Las Vegas on the Fountain (which I didn't think was as good as My Heart Will Go On). I spoke very briefly to a very sleepy Trent and soon found myself fast asleep.