August 2010 - Italy
---
We've been on some pretty hairy roads on this trip, it's just none of them lasted for 20 odd kilometres. Welcome to Lake Como.
Our destination was Bellagio, a small town at the middle point of Lake Como and to put some perspective on how narrow this road there was a local was sitting on the side of the road, saw cars coming in both directions and swivelled his legs out of the way. Yeah, that close. There was a bumper barrier on the right, usually the wall or a building jutting out just making it harder for you. Ever so often (rare) you would get a reprise, a line in the middle of the road and a section that you could actually drive in third gear but then just as quick as it came it would disappear on you just as Dad's knuckles whitened on the steering wheel.
Dad offered me a driving lesson, which I can only assume was part joke and part desire not to be behind the wheel. I declined respectfully, there was no way I would be willing to enter into such a high stakes game with what I felt was little chance of coming out alive. Talk about Russian Roulette.
Along the way Mum and Jonno were starting to feel the effects of the constant turning and every couple of minutes Dad is asking how far to go!?! how far to go!?! You're in 2nd gear Dad, about 100 metres from when you last asked me (exaggeration but you get the point).
Anyhow, we are on this stretch of road; wall on one side, cliff on the other and in the middle of this stretch of road was an old lady patiently waiting at the bus stop... On the other side of the road.
"Good on her," Jonno says.
It only takes a few extra seconds to dawn on Dad, then me and finally Jonno and Mum. There is a bus coming in the other direction, heading straight for us! The knuckles are surely growing ever whiter on the steering wheel and a collective silence filled the car as I'm almost certain everyone had stopped breathing.
So here we were driving into what would be certain doom in any good suspense film.
Wouldn't it have been nice if the old lady didn't know her bus schedule and was happy to hang out for an arbitrary amount of time (or at least the time it took us to make it to the end of the road). Alas no, we were not so lucky, she knew her schedule well and a few corners later we met the bus. Fortunately for us the road had widened ever so slightly to accommodate the driveways of a few buildings which left just enough room to manoeuvre. Crisis averted, but it wasn't until the car was parked in Bellagio that those of us in the car chose to breathe again.
"Hit a bike, 50 points"
Pause...
"Bus, -100 points"
Yeah, we laugh about it now.
Bellagio greeted us at the other end with self cleaning, 15 minute limit toilets and a parking spot that was surprisingly easy to get into and very close to the action. I don't think many people make it down here on that road. But it was worth it, see evidence here…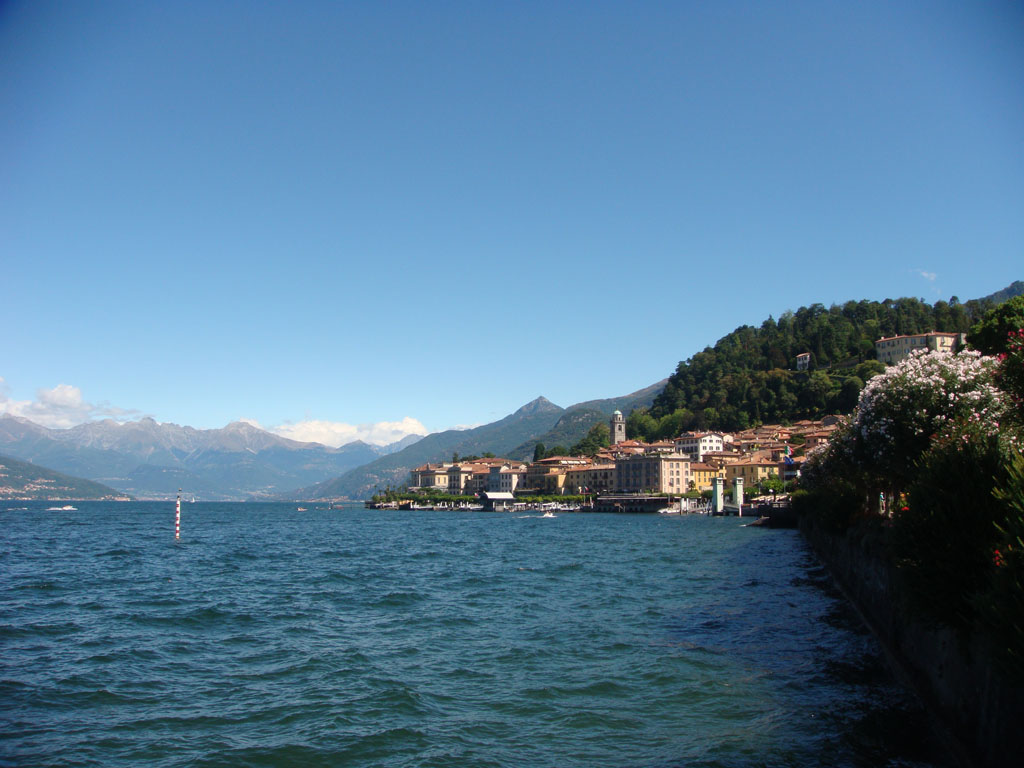 We wandered the streets, through small laneways and shops, ate lunch on the waterfront where we went to sit at a table, was sent to the restaurant table because we wanted food, only to be sent back to the original table because we only wanted a sandwich. That's okay because mentally we were all preparing for the drive back and that would take some serious time. So imagine when we discovered a ferry that goes to the other side of the lake... AND you can take your car with you (is this fate?). So a little ways after lunch all of us +1 car were on the water heading to the other side of the lake for some afternoon exploring.
Kudos to Mr Jonno for doing his research on Lake Como as he discovered that the villa they used in Star Wars Episode II (in those horrible Anakin/Padma romance scenes) was across the water from Bellagio. Now the night before Dad had pretty much told Jonno it was never going to happen but things were starting to look up now we were on the other side of the lake and so we take a walk towards Balbianello.
From a small town of Lenno you have to walk to the gates of the Balbianello parklands, then you have about a 1km uphill hike to the gates to the Villa's gates. I got all excited when I saw the gates and Jonno decides to remind me it could still be 45 minutes to get to the villa. I really dislike Jonno pointing out things like this but lucky for us the distance between the gate and the villa was only five minutes.
And the view? Well if you missed it scroll back up to the top of this blog.
Look familiar Star Wars fans? SO worth it and to think without Mr Jonno doing his movie research we would never had come here. There was a wedding being setup, people just off shore sunbaking on their boats, a pretty strong wind that was playing havoc with my skirt (so much so that Mum had to hold it down whilst I took a picture of Jonno). It was as pretty as it was in the movie, possibly even more so because the awkward love scenes weren't happening in the foreground. But in case you feel deprived here's a little kiss to keep you happy (and those guys sunbaking on their boat).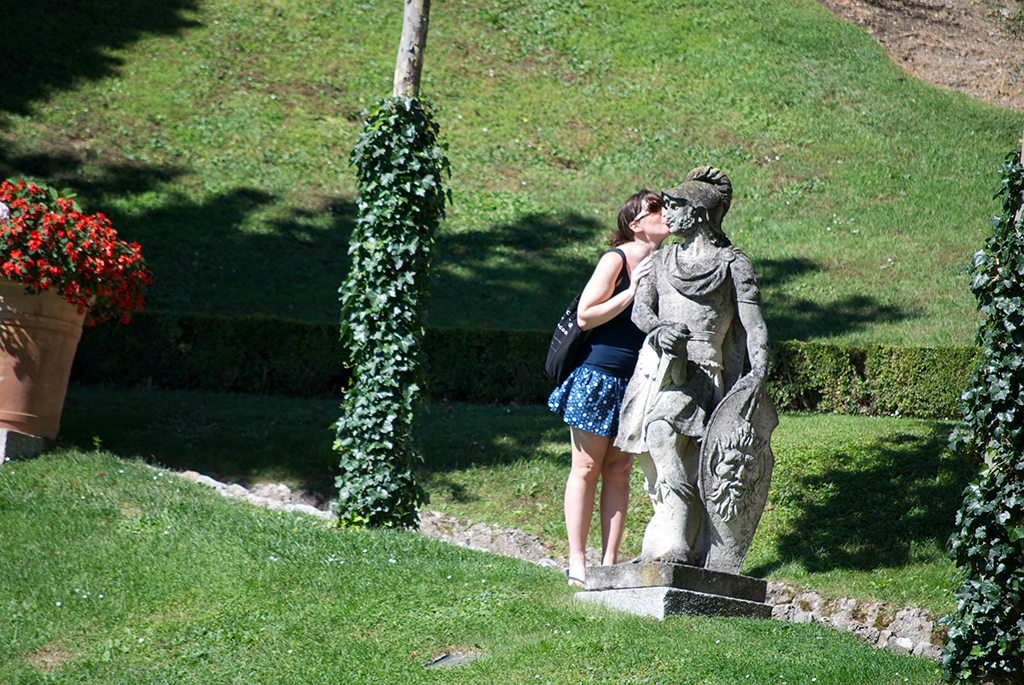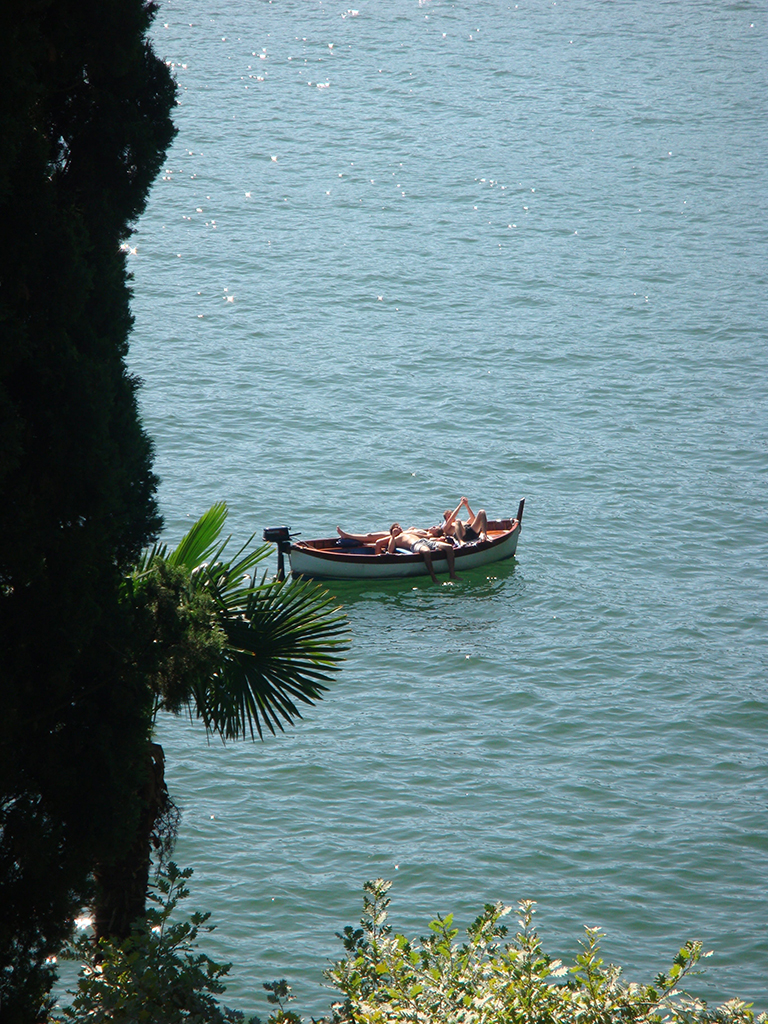 The journey back wasn't nearly as exciting as the journey in; there was more chance of centre lines, third gear and less turns. This is the road that the tourists take, but think of ALL the fun they missed out on. The nail biting, vomiting inducing road to Bellagio. Dad's driving skills have served us well this trip and I'm sure we would not have seen half the things if not for his determination to get us there. We now have many stories to tell over dinner conversations and Jonno has now had the wonderful experience that is being in a car with us in Italy.
Back to the Hotel room at 6pm and Mum and I thought to reduce time wasting tomorrow on our shopping day we would go to Abercrombie at 645pm (knowing that it closed at eight). This plan was great until we asked the Concierge what time the shops open in the area tomorrow… Only 10% of them do and those that do only open from 3pm… CRAP! We run out to Mont Blanc but their shutters were already half closed. CRAP. Closed on Sunday… CRAP. CRAP. CRAP!
We got to Abercrombie at 7 and by the time we left it was 8pm, no time to get ready for dinner… again. Dinner at the Hotel with Jonno reminiscing on the days events, of pretty towns and villas and death-defying car rides (the lamb was very very nice).
On the side:
If you ever bump in Mr Jonno have him say 'Babianello'. Let's just say Mum now has a recording of this one word; a reminder of Italy and this one day on Lake Como.