August 2010 - Italy
---
Embracing the true Milano Sunday meant that we must be as lazy as all the shopkeepers that don't open there stores today. And so nothing happened today before 11am and even then nothing was high intensity about this day, well except for the Belgium Grand Prix that we ended up watching early afternoon, fortunately that high intensity wasn't ours.
We discovered the seven storey department store near the Il Duomo and managed to lose ourselves in there for a while. One t-shirt and some mild cursing at the awesome looking alarm clock/ipod dock who's adapter would not be for Australian voltage later and Mum and I were back on the streets in search of the 10% of shops meant to be open. Unfortunately for Mum part of that 10% included Prada because her credit card suffered a punch with a beautiful pair of shoes. She was in love. I was not (well not for any shoes I tried on there). I did try to buy the PERFECT pair of shoes to match one of my dresses from D&G but their sizing was whacked... 38 too big, 37 too small. Thanks D&G. If you're going to have such a significant difference between two sizes then you should investigate half sizes. End Rant.
Like shops there are not a lot of restaurants opened on Sunday in Milano, but that ended up being a good thing because we never would have gone to the place we did if other things were opened. Just before leaving for dinner I got a msg from our stray (Jonno) wondering what we were doing, so we both headed for this restaurant about ten minutes out of the city. It was described as good, casual pizza. Yeah, they should have replaced the word good with FABULOUS!
The restaurant is named Brick Oven and is found on Via Marsala near the Moscova train station. We made it first in our starving state and waited for Jonno until we could not wait anymore and order a plate of chips and foccacia. The foccacia was herb sprinkled pizza bread. The thing was huge, thin base, maybe 45cm long and 15cm wide. Then I had a thought just as the pizza came out for another table… That was the size of the pizza.
Result: Only the best pizza we have eaten in Italy to date. Jonno and I demolished all of ours. Mum was defeated and Dad was only defeated because he had shared a small part of his for a large part of hers.
The restaurant had atmosphere to spare too. We arrived just after 8pm to about five occupied tables and when Jonno arrived 30mins later the place was packed and there were people waiting outside. It was obviously a locals spot. The walls were all painted in this quasi cowboy/Grand Canyon mural, complete with a 3D cloud above one of the archways in the restaurant. I say again LOVED IT.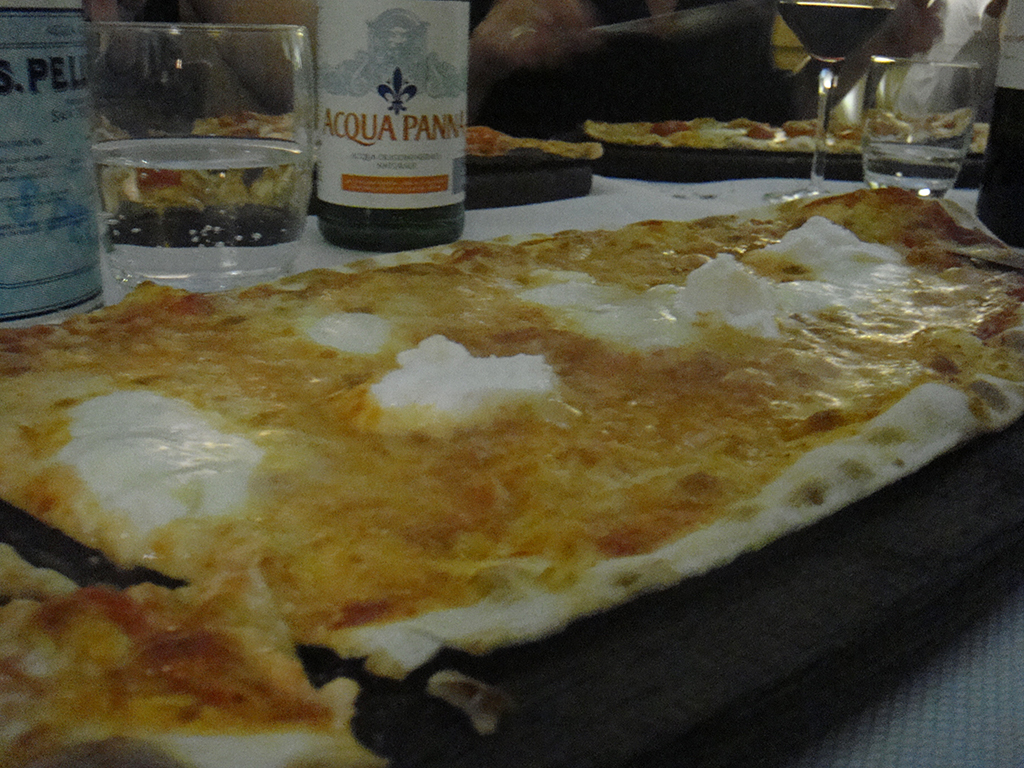 DROOL!
One taxi ride later and we found ourselves trying to spin three times on our heel, on a bull's balls. Apparently this is the thing to do when you are in Milano. There is a picture of a bull in the middle of the Gallerie Emmanuelle and you are meant to spin three times on your heel for either good luck or that you will come back. They don't advertise this anymore due to the overuse of that tiny spot on the poor bull. There is no longer balls but a distinct 15cm circle that dips down into the stone at least another 5cm. This makes spinning all the more difficult to successfully manage, either your heel is to big and you can't really spin or your heel sinks into the centre and you can't really spin. Doesn't mean people aren't going to try though. Personally I liked the point where Jonno is spinning and I am clearly taking a photo and these two people come up and stand RIGHT NEXT to Jonno, like if J had have lifted his arms when he spun he would have hit them close. How rude are people?
Photos here, photos there, photos of Il Duomo then finally our last night in Milano had come to an end.