June 2015 - Florida
---
So what happens when two local friends, two not so local friends and yours truly take on Disney for my birthday? A night filled with drinking, tiaras, light up wands and a memory of a sing-a-long to Journey's Don't Stop Believing in the queue for the Jungle Cruise.
But I am getting ahead of myself here...
Things kicked off early when the three non-locals headed to Downtown Disney where we spent the better part of an hour in the World of Disney store entertaining ourselves with trying on all the Mickey ears/princess hats we could find and starting sword fights in the middle of the store. See evidence below: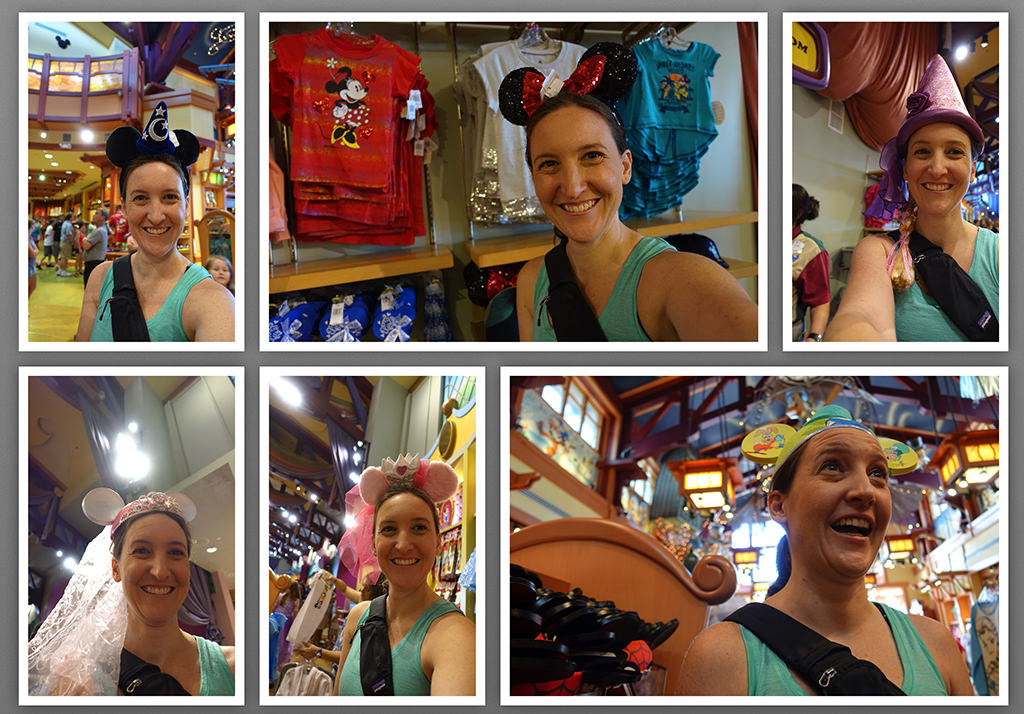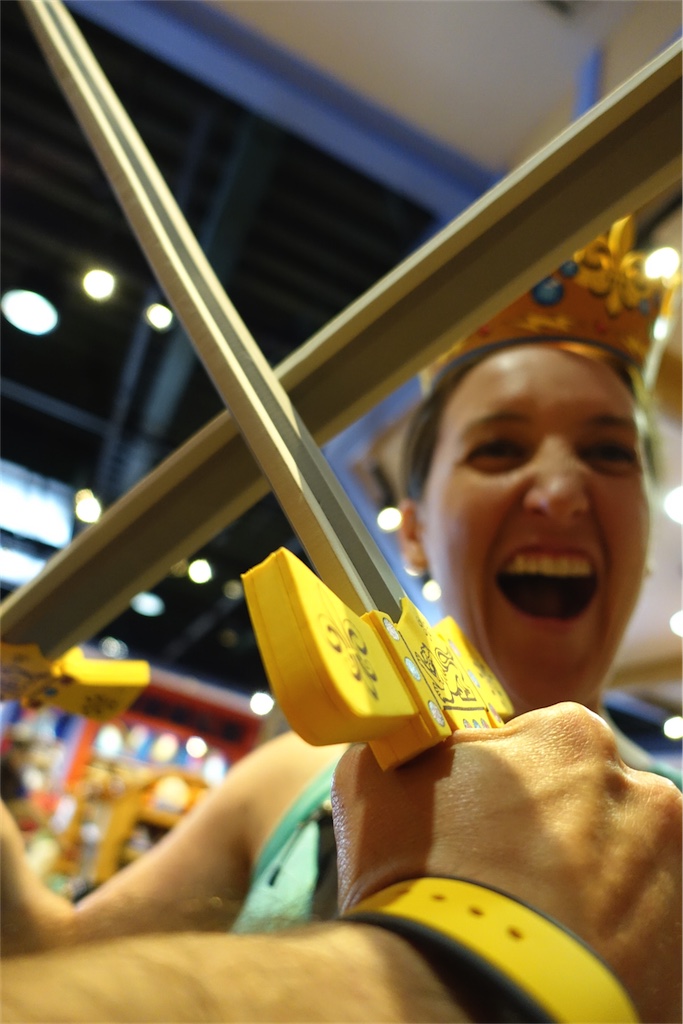 Which ears/hat did I end up with?
But time clearly flies when you are having a blast and the next thing I know we are navigating the Disney bus system to land us somewhere near Epcot at 1pm. +2 friends later and a Jonno realisation that he had left his ID in the Hotel room everyone had a drink in their hand (minus the forgetful one), chicken & fries in the other creating an attack plan for the rides.
Fortunately with two locals that proved to be so easy that all I had to do was sit back and finish those chicken nuggets and fries, shortly after that we were standing in an hour long queue for Soarin' playing such a lively game of 'Heads Up' that the people around us in the queue were either watching or joining in the fun. The perfect game for passing queue time.
The only complaint I have about the Soarin' ride is that it is way too short. It is beyond cool flying (or Soarin') over the different parts of California but it only lasted about 3 minutes, after queuing for an hour. In any event I still messaged the parental units who were also hanging around Epcot and told them that the queue wait was worth it, go NOW!
After a relatively quick singles line at Test Drive where we did not get to design our own cars the four of us were dragging the now forgetful (the ID from earlier) sufferer of motion sickness onto Mission Space... the orange version of Mission Space (more sickening that the green). Now I did have my concerns, especially when I sat next to this sufferer of motion sickness on the ride (and the other 3 in our party had conveniently been placed in another pod), but we were locked in, Jonno would have to climb over me to escape and whatever my concerns were I was not going to allow that to happen.
Unlike Soarin' I was very glad Mission Space was a short ride; very glad when the virtual spaceship stopped just before falling off the ledge into the abyss because another simulated fall may have resulted in queasiness and unpleasantness. We all survived unscathed, however I would like to remind the wonderful workers of Disney to ensure the barf bag dispenser in the ride is full, or at least not empty. Like I said earlier, I had concerns for the person sitting next to me.
There is a theory that to prevent rain you must purchase a poncho prior to the rain starting. We did just this and to at least my surprise we did not require the ponchos for the rest of the evening (although a poncho would have been nice for the water rides at Universal, but again, ahead of myself there).
We did not managed to complete the Around the World drink challenge, but here is a breakdown of the 11 countries and what happened at each.
UK: The first drink of the day (prior to the not so futuristic world of Epcot)

Mexico: MARGHARITAS!

Norway: Skipped because its boring and Elsa is moving in.

China: Tried and failed to find a cool panda hat

Germany: TIARAS! The girls are all princesses now.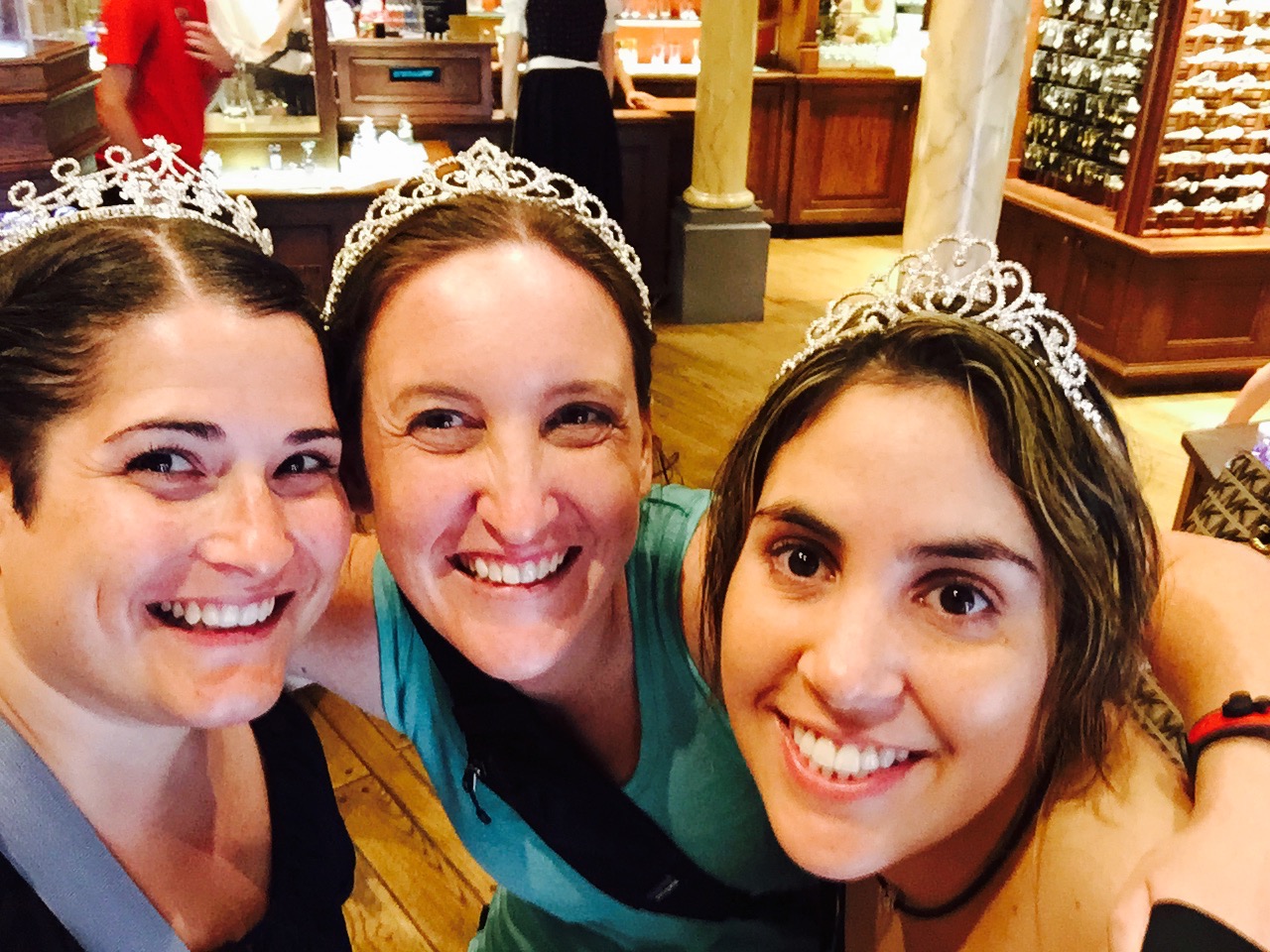 Italy: Limoncello, spilt bevie, flag tossing.

US: Whatever that Jack Daniels slushy drink was (very good that's what is was) and TURKEY LEG!
This turkey leg I speak of became the group's temporary trophy and it provided many laughs as we de-evolved to our caveman like instincts.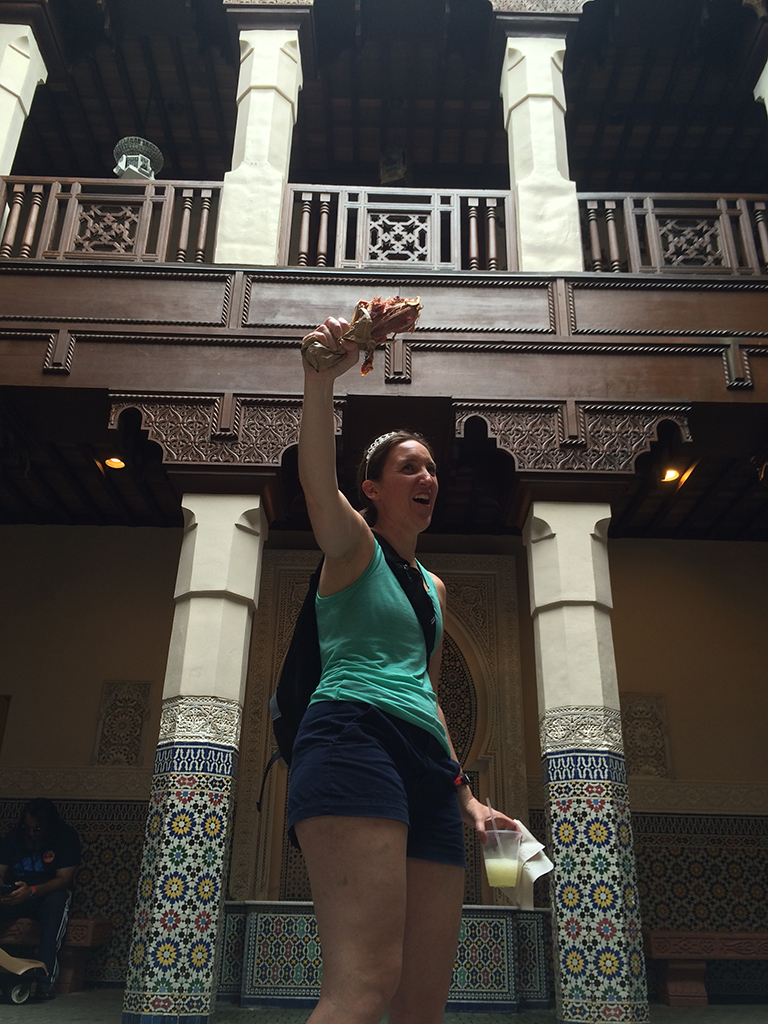 Morocco: The remains of Turkey Leg that landed in a garden bed rather than a garbage bin.

Japan: TEPPANYAKI ONION VOLCANO (and Sake)
Our stop for dinner was preceded by the finding of giant Pokey sticks in the Japanese store where the cashier spoke Japanese to all the people in front of me and then didn't say a word in Japanese to me... So I said a few words to her instead.
Dinner was a chaotic Teppanyaki cook off mixed with Sake and for some of us Sake Bombs. An excess of Shrimp was ordered and I am almost certain the girlfriend of the couple sitting at the table with us was unimpressed by our antics, or maybe it was just that we were encouraging her boyfriend to engaged in said antics (he was very willing).
The table across from us must have had Onion Volcano envy because our Chef was about as awesome as us and stacked the volcano to about double the height of theirs.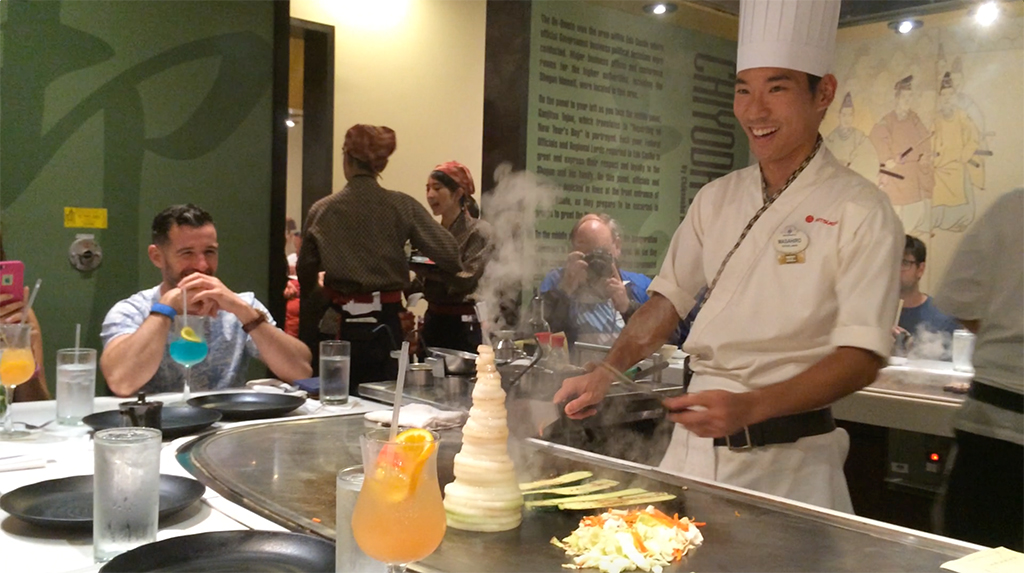 Notice the guy at the other table taking pictures of our amazing Onion Volcano
Stuffed to the brim with food I could not escape the Opera Cake that landed in front of me with a load round of Happy Birthday being sung around the room. My tiara was briefly covered by my birthday chef's hat which made fellow birthday celebrators very easy to spot around the restaurant when we were leaving.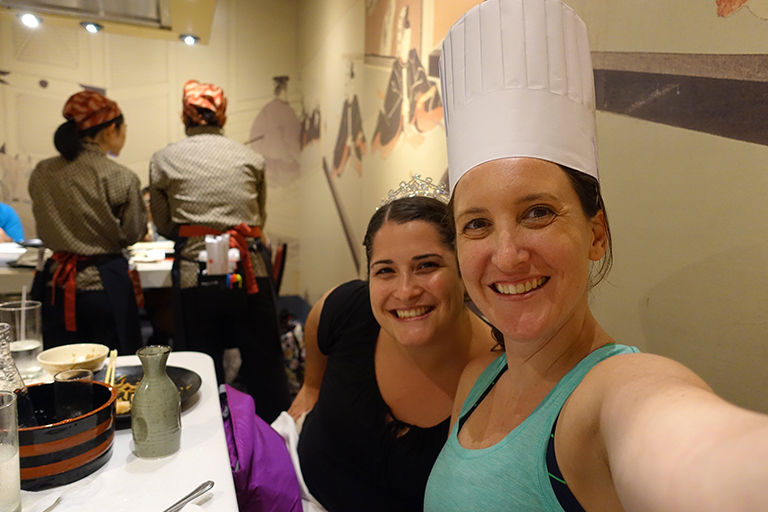 France: Sorry distracted by Fireworks and the purchase of light up wands and light sabers because we weren't done with this night just yet.

Canada eh? Was Canada even there?
And as a side note where's Australia people? Where's Australia?
Through a sea of people it became clear that these light up wands were going to be of great use to our group as we traversed the monorail queues and monorail itself over to the Magic Kingdom for another round of fireworks.
Now timing is everything, we had a pretty decent view of the fireworks but there was a better spot and so with about 2 minutes to spare we were on the move. Now the Disney ushers were keeping the walkways clear and if the fireworks had have launched a minute later we would not had been able to stand where we did.
BOOM!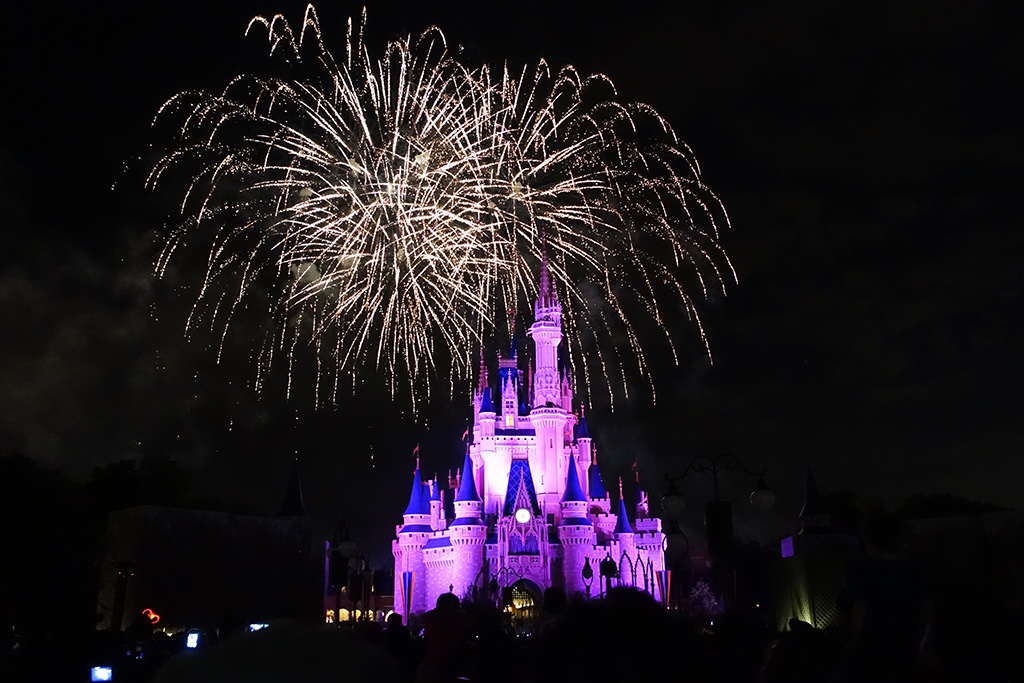 "F*CK"
I would like to apologies to any kiddies standing around me when I saw this picture turn up on the preview screen. Flicking through all my pictures later on my internal dialogue went something like:
"That's pretty good."
Next picture, "Maybe that was the one."
Next picture, "F*CK! That would be the one."
I guess I really do know when I've taken a brilliant picture.
And now at 10pm it was ride time.
Pirates of the Caribbean: How many people can say they drank rum on the Pirates of the Caribbean ride?

The Jungle Cruise: Another round of Heads Up and when we got bored of that we tried to start a queue sing-a-long. We offered the teenager in the queue the chance to start any Disney song and he chose the beginning of Circle of Life =S Yeah, like we all know how to sing that. Our second sing-a-long was far more successful with Journey's Don't Stop Believing and by the time we jumped on the cruise with a partying bunch of gay men we had become 'those people'. There was some heckling of the cruise guide, something that involved awkward turtle and then turtle babies but it provided some fun entertainment considering the animatronic animals of the Jungle Cruise have seen better days. One has to wonder why they don't replace the ride when over in the Animal Kingdom park they have the REAL safari ride (which I'll take about another time).

Big Thunder Mountain Railroad: I turn around when we made it to the end of the queue and the forgetful sufferer of motion sickness was no where to be found. BOO! This is such a tame rollercoaster (it really is) and he piked on us. BOO!
The clock struck midnight and in what can only be described as a forced Cinderella moment the locals and I found ourselves locked out of the rides (only Disney Resorts have access to extended play which runs for another two hours). As upset as I was that the night had come to an end my feet were celebrating, it was time to return to the Hotel, although that in itself took some serious effort including a ferry and a cab ride. But what a crazy, amazing, hilariously fun day one.