August 2010 - France
---
Cannes (compared with Nice) is SO much easier to drive to, drive in, park in… well you get the point I'm trying to make.
In Cannes, Mum and I had a priority 1 and priority 2. Jimmy Choo… Prada.
Right now I'm having major problems writing this day. I'm sitting in Dubai and all I want to do is tell you all about what has just happened but I have to be disciplined. I have to continue the way I began, because I've always been hopeless at ending these blogs and some of the most amazing experiences have been forgotten. So now I've said that let's return to Cannes.
The shop assistant in Jimmy Choo was wonderful, didn't mind us trying on half the store, felt like it was her pleasure to help us decide, and let me tell you the deciding was hard. Mum ended up buying the shoes that I had been eyeing off and I bought something a wee little bit more expensive. I almost fell over when Dad said he liked them, I almost fell over at the price, I almost fell over because the angle of my foot is greater than that of my stripper heels (small but very steep platform on stiletto heel). I really need to practice in these shoes because releasing them into the wild.
A few minutes later, and my credit card company loving me that little bit more, we were doing the touristy thing on the beach. That was until we hit Prada. Shoes that I had originally tried on? Yeah, Mum liked them too and since I was tapped, I wasn't getting them and Dad insisted that she try them on… Ah fate when they did not have her size! Oh fate when Prada does not exist in Dubai! Luv you Mum, but I still REALLY like those shoes and if you buy them I might have to do the same and I really don't want to do that (just yet).
I was yacking on in an earlier blog that I need to swim in the mediterranean no? Well guess what? It FINALLY happened. See evidence here complete with Cunard Cruise Liner in the background!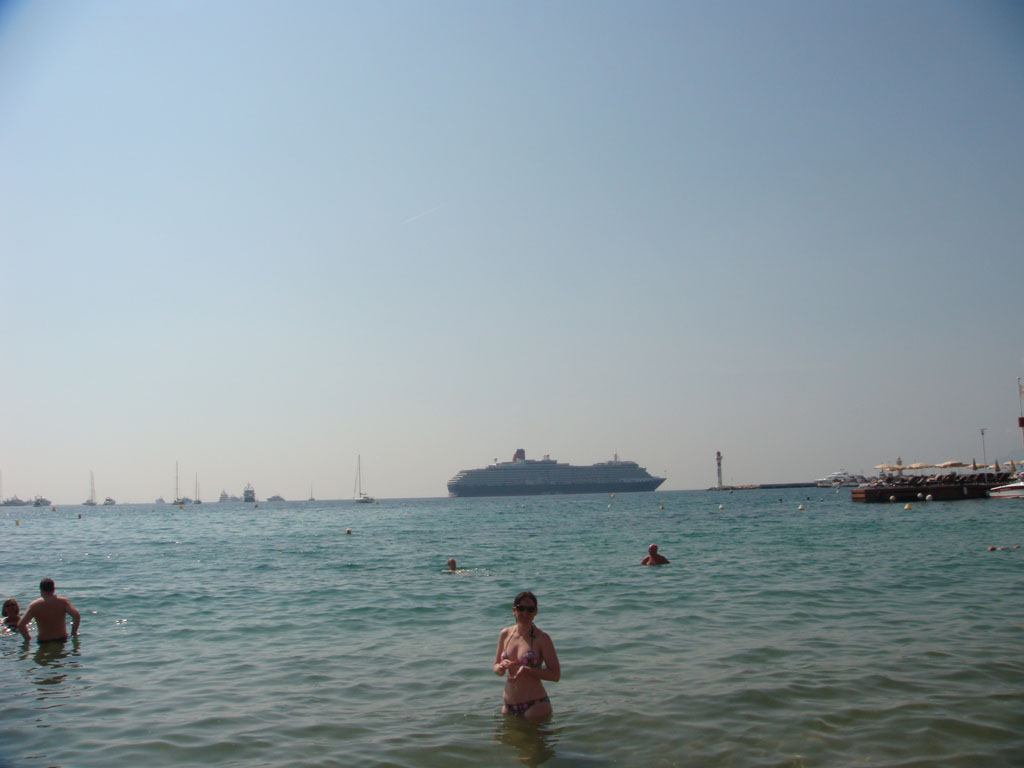 Do you think the public toilets were opened for me to get changed in? Ah, no. So here I am on the streets of Cannes, demin skirt (in that respect I was prepared) and my bikini top trying to dry off before getting back into the car. So imagine be strolling around the streets of Cannes in my Bikini top and skirt, apparently Mum called it "Very French", but it wasn't long before my shirt was put on so I could walk into the Lalique store on the Rue du Antibes.
Time was flying away and Mum and Dad were determined to see some of the local villages near the Hotel before I was allowed to go for a swim, so off we went. To Mons…
Now I hadn't been to Mons before, and let me tell you I'm glad I didn't, winding roads, sheer drops into valleys below with little or no guard to stop you. Not as nail biting as Bellagio but still… a little intense for the afternoon. Mons is high up in the mountains overlooking Provence with a cat in a random window that was frozen freakishly still (oh it was real, I made it blink).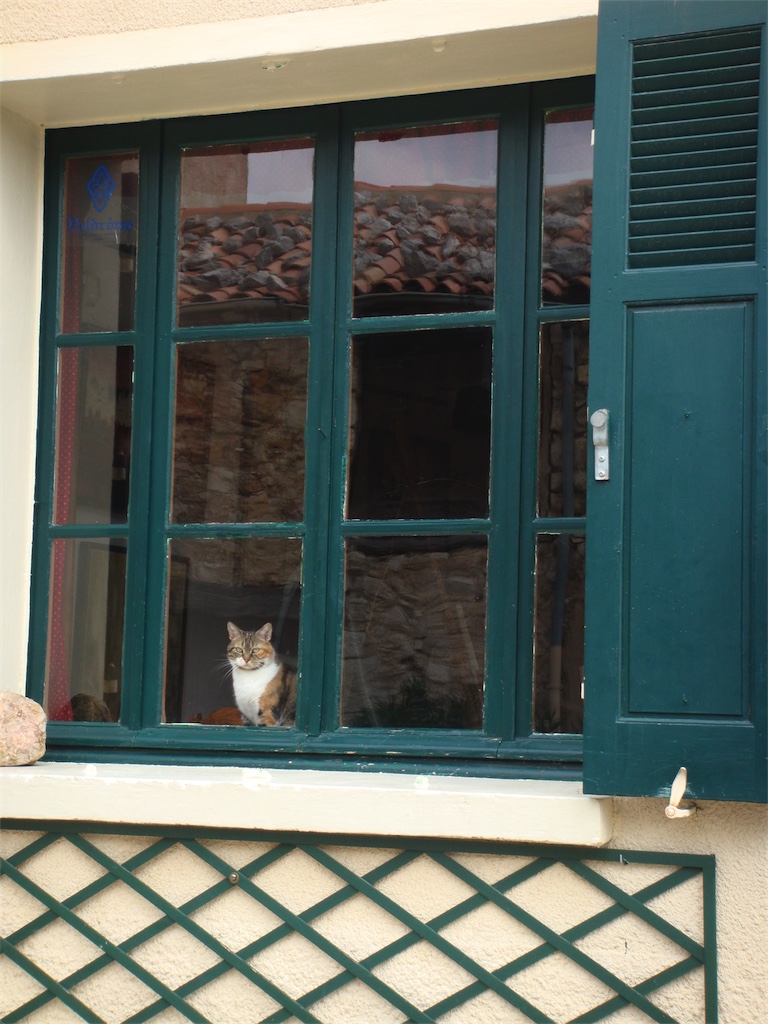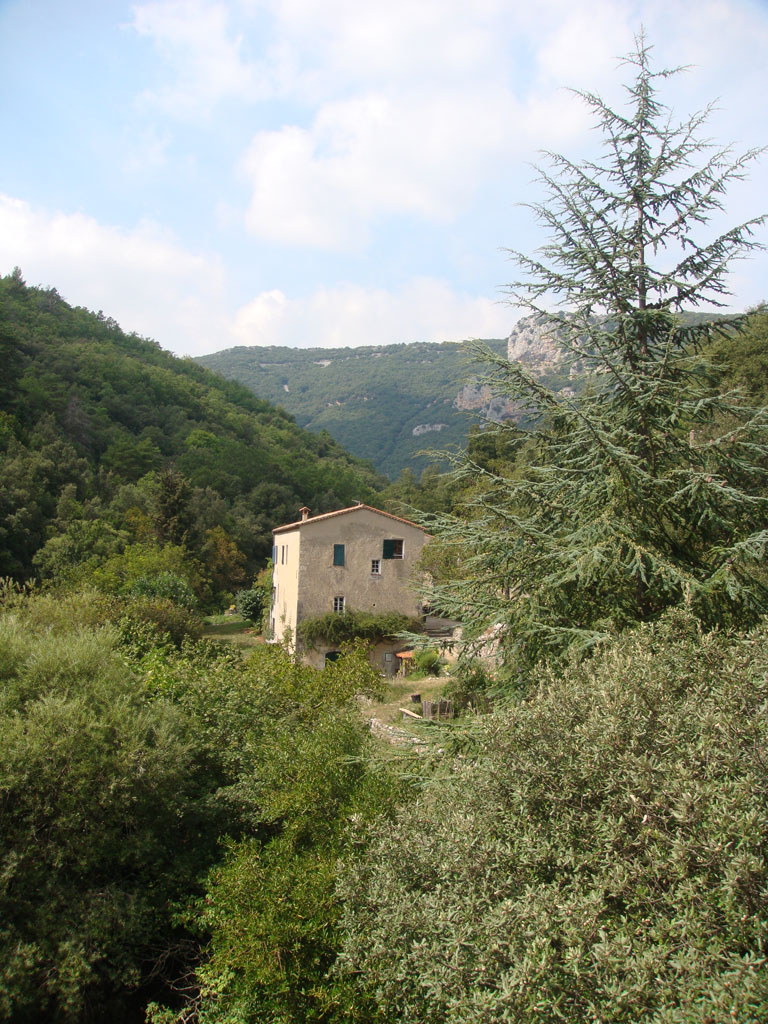 No. That's not the village, just a place on the way up I thought was cool.
We took a slightly less hairy road back down the mountain to the village I HAD been to before, Fayence. Dad drove past the parking then tried to back out onto the main road with me out of the car telling him to stop because a motorcyclist was coming (fortunately the motorcyclist slowed down to let Dad out). Geezzz. Let's not try and turn around on quasi blind corners again please.
We parked, walked the wrong way, walked back and found a small homemade ice cream store. Perfect. Smarties, Cookies and Coconut? YES PLEASE! Yes, it was that good.
Took some more photos, found some old places where I had taken photos in the past. Watched as all the cute little french kiddies left school and jumped on the carnival ride setup just outside their school in the carpark (rush hour?). SO CUTE! Then we take a couple of wrong turns on the way back to the Hotel, but at least because I had made the mistake before we figured everything out pretty quickly.
5.30pm and an hour and a half later than I had expected to be swimming. The weather had clouded over which was unfortunate but that would not stop me Our little pool boys on the other hand didn't want to know about us (very UN FourSeasons), told us to sit anywhere but there were only dirty seats or seats that they were packing up. Mum managed to find a couple of spare seats smack bang in the middle of two couples, but at this time we were going to take what we could get. We swam, bitched, showered, bitched some more and then headed for our final supper in Europe.
Dinner was wonderful. I had the chicken (again) with the BBQ Sauce because the fine dining restaurant was closed on Sunday and Monday nights (shame but we shall survive). Our waiter was the complete opposite of what we experienced in the pool and don't worry that pool incident SO got written on my comment card.
Now I'm only two days behind rolls eyes at self Time is falling away from me. There is TOO MUCH TO DO and therefore write about!