October 2011 - London and Barcelona
---
Since I had gone to one end of London to go shopping at a Westfield, I decided to do the same on my last full day in London. This time instead of heading east (a far shorter journey), Jonno and I headed west to White City. We were in search of an Early Learning Centre to try and find the Happyland Royal Wedding set, and as you can imagine by the name it is adorable. But we were out of luck, but that didn't stop me from finding the Gilly Hicks store (I FINALLY found a Gilly Hicks store and got all excited because I could try on all their different types of bras). Needless to say a purchase was made before heading a little closer to home.
Our next stop was Selfridges where we parted ways. I headed to Dior to double check on the Mini Dior bag price (sadly the same as everywhere else) before heading up to the Louboutin boutique. Now the first time I saw this boutique a pair of short heeled black peep toes were just asking to be tried on. And so I did, and I have two words for Mum, Toe Cleavage. Probably the most I have ever seen. The peep toe show as the name suggests was not peep TOES but peep TOE, I could really only see one pink nail. It needed a little less at the very front and a little more at the back (back of the toes, not the shoe). I said to the shop assistant that I wasn't sure about the toe cleavage to which she responded, "I've seen a lot of toe cleavage and yours looks really good." I bit my tongue, so tempted to actually ask What makes toe cleavage good or bad? A question for the universe. If anyone knows the answer please let me know. So my lack of love for toe cleavage saved me 375 pounds. I spent half of that elsewhere, but we'll get to that in a moment.
I wandered around the rest of Selfridges, finding the cK socks that have been permanently on my feet this trip (I love how I find Gilly Hicks and cK Socks AFTER doing a round of washing). I bought the three pair pack and to save Mum and I arguing for the third time when she steels a pair of my socks I bought her another three too. I was heading out the door when I saw the chocolate section of Selfridges, the highlight was the chocolate that Dan had mentioned he usually buys for everyone back home. I had to get some, but there were so many flavours and the shop assistant was so nice. She would have given me at least 6 to try. The Chili Dark Chocolate was my fav. I'm saving it for when I get home.
Back out in the real world, chocolate in hand, I walked down Bond Street and after a quick stop off at Alexander McQueen (no, this is not where I spent half my money) I went to see a site that I had missed the first time around and inadvertantly walked through without realising it on our dinner date with Raj… Piccadilly Circus. It's really small and I can't quite for the life of me understand what street is being used in Grand Turismo when they drive past it (will have to play again). But TICK, it's off the list.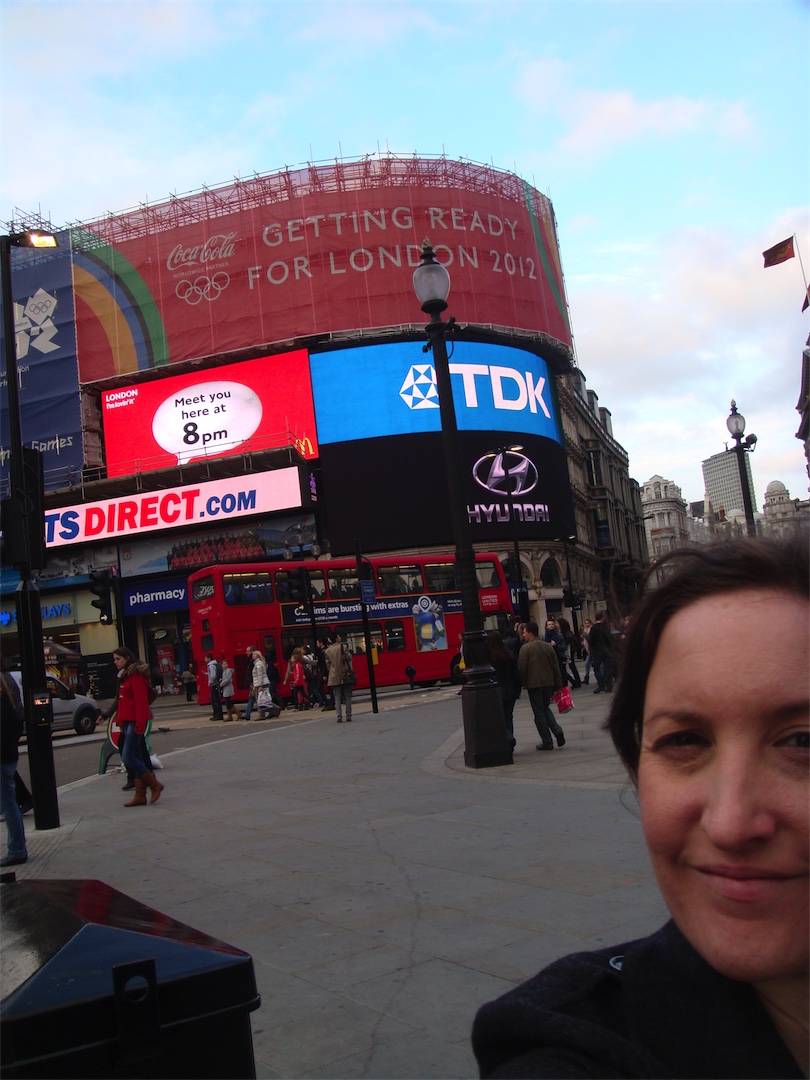 Another tick off the list was taking a photo of the Ship in a Bottle at Trafalgar Square. TICK!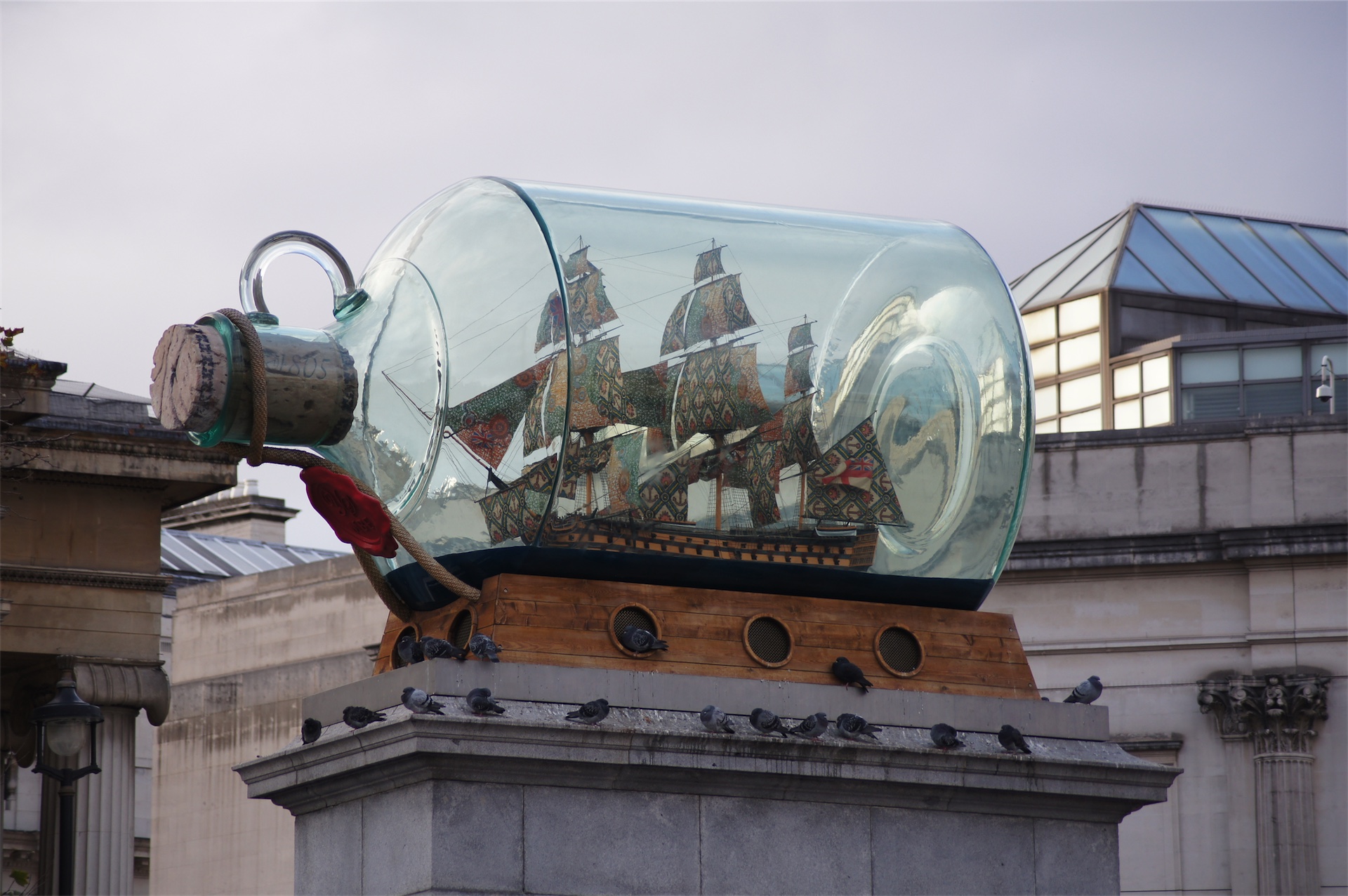 Now after my first shopping day in Covent Gardens I realised I didn't get my receipt at Betsey Johnson. I thought I would go back and see if they still had it. BAD IDEA! They did have it, but they also had this gorgeous red dress on sale. This is for Mum because she will understand… Remember the floral dress I tried on in Chicago and you loved it on me but I couldn't stand the floral? Same dress only blood red minus the floral. I think I found my Glitz and Glam Staff Party dress.
The last thing on my list for the day was to visit St Paul's. Now if I go back to the blog I wrote in 2005 I said this….
"I then walked to St Paul's Cathedral only to find that it had closed for visitors about 5 minutes before I arrived (should not have stopped for Ben and Jerry's Ice Cream on the way)."
SAME THING HAPPENED... Well except for the Ben and Jerry's, this time it was a coke from McDonalds.
I get there just as they are closing! ARGH! That's twice now!
Anyoo, got to see all the tents and a complete lack of protestors outside them. They are all very neat as you can see. There was some crazy guy rambling on the steps of St Pauls, but I don't think it was about corporate greed (I really don't know what it was about).
With all today's list ticked off I happily headed back to the room (via 8 levels of stairs down to the underground at Bank Station) to drop off my bags and wait for Brad to finish work, which should have been at 6pm and convinced Jonno to go eat and book tickets for the 845 session of TinTin. I sat on the lounge devouring the new Chloe Neill book, 6 o'clock came and went, 7 o'clock came and went… I should really be heading out and grabbing some food before the movie, but I just found out Mallory has gone evil. I can't stop reading. 730pm… I need to but this book down, I feel like pizza, but Ethan just came back from the dead wtf!?! 745pm… finished, I've got to get to Leicaster Square then I can think about food, but I'll just turn to the next page and see what's happening. Epilogue. FUCK! She's only done this in one other book! 755pm… I am running down to Canary Wharf station to catch a train to Waterloo, switch trains to Leicaster Square. Made it! Where are the cinemas?
Shortly after those thoughts I bumped into Jonno on the street, we got to the cinema but I still had had no food. They had foot long hot dogs at the cinema. I devoured one before the trailers even came on the screen. The UK cinemas are a lot like ours, 25 minutes worth of ads that is borderline ridiculous. The movie starts and that's when Brad finishes work and finally messages me, needless to say he couldn't hang around hour until the movie finished, so I said the best goodbye I could trying to hide my phone in the middle of the cinema. It was short, really really short.
TinTin was great but we were buggered. If the movie had have gone on longer I probably would have fallen asleep. We stumbled back to the room where I was more than 80% packed. I dove into bed after sorting a few things out but Mr Jonno kept the lights on until around 1am doing his packing. Tomorrow we farewell London and start the long stretch home (well kind of). Barcelona here we come!