August 2010 - Italy
---
Ancient Rome has been waiting an awfully long time for me to come along and appreciate it. With the help of a fellow aussie (our tour guide Vanessa) we were to explore the facinating world of the Romans, from the Forum, to the Colosseum, to the Pantheon.
Our brains were in overload as Vanessa threw names around like Caesar, Augustus and a long line of Roman Emperor's after him. We admired where it was said Julius Caesar was cremated, and later that day where it was said he was assassinated. Vanessa had one of those then and now picture books so we sat in the middle of all these places imagining what it would have been like a couple of thousand years ago. Minus that huge street Mussolini decided to build right in the centre of things.
Now Vanessa wasn't one for queuing, which I completely agreed with so we bought our ticket at the Roman Forum, which she explained was also the tickets to the Palatine and more importantly the Colosseum which I didn't appreciated until we saw the queue. It was HUGE! Hundreds of people waiting to purchase tickets, queues of seven people wide and only three counters for service. It may have been raining that morning, which cooled the temperatures down significantly, but no one would want to be in that crush if they knew how easy it was to avoid. So here we are walking up the left hand side of all these people and straight through the doors, unbelievable. She was worth the money if for that awesome move on its own.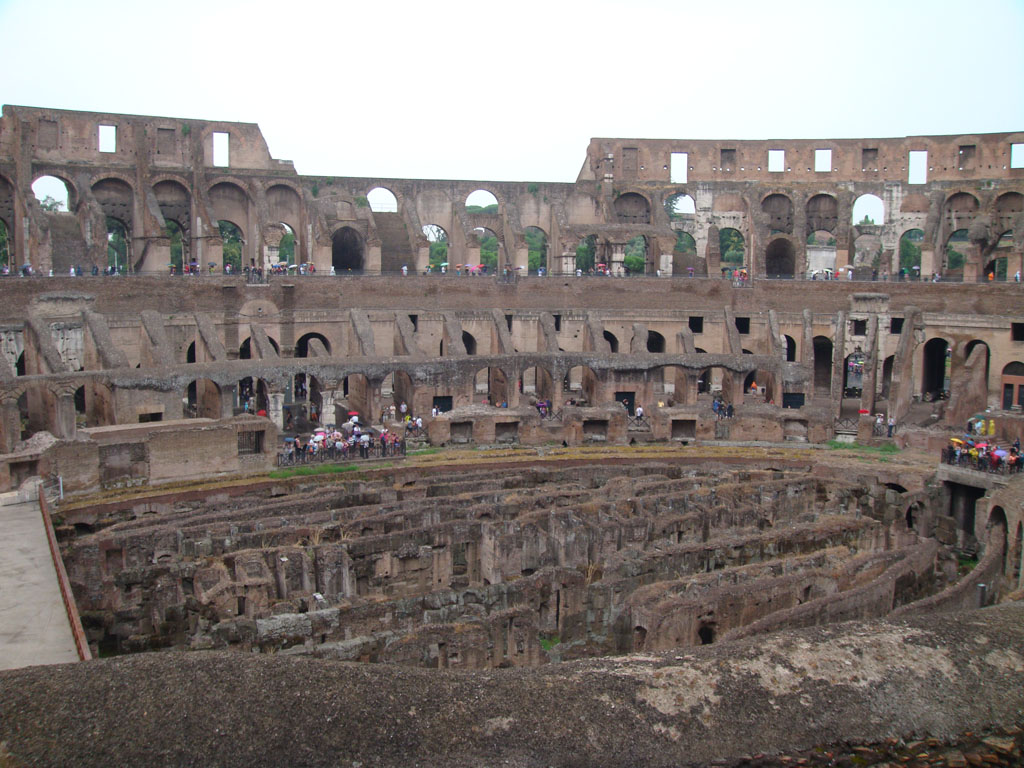 Now the thing that staggers me about the Colosseum was that we would have seen it, in ALL it's glory if some people didn't decide to basically mine it for its metal pins. The damn thing was earthquake proof until they punched holes in the walls to remove the bounty. At least some of it is still standing, and wow, damn thing near takes your breath away. This was a stadium that could seat 55,000 with more efficiency than many of today's stadiums with about 50 doors lining the bottom you were going to get where you needed to go and quickly. Senators at the bottom, pelbs and women at the top. The corridor where you can now see down into the Colosseum was actually under seats. Bar a few holes for entrances and exits, everything above was seating. Like I said the system was so efficient there was no need for aisles. There would have to have been a ticketing system because at its peak Rome sat at about one million people. Personally I like the marble seats they have found (broken as there are no seats left) carved with the names of Senators.
Seriously, have we lost the ability to build like this? Are our buildings today nothing more than disposable. The Colosseum, even as it stands today minus its pins was damn IMPRESSIVE!
Next stop was a small little church recommended by Vanessa. The Church of Saint Clemente, an obscure church with a couple of things hidden below. The modern day church that sits on top of a church that sits on top of another church dating back to Roman times. You descend from the top level of perfectly kept frecoes, to partially damaged frescoes to the bowels of the earth below where a nice and constant temperature of a balmy 16 degrees awaits. We saw that the distance between buildings was no greater than about two feet. It was hard to comprehend that down here was actually street level all those years ago. There is even a stream running underneath with apparently is drinkable water (btw all Fountains in Rome, drinkable water except for the Trevi). Our tour guide hasn't been willing to test that theory so neither did I. But just think what other things are buried under the streets of Rome (and I'm not talking about the catacombs).
We stopped for a drink and Vanessa pointed out so must see sites before heading to the Pantheon, seeing Rafael's tomb. To admire how easy it was for those with money (the church of course) to kept these buildings in good nic. I mean if it wasn't for Bernini running out of Bronze for his statue in St Peter's (correct me if I'm wrong on where it is) and the Pope that said sure, just take everything you need from the Pantheon we might have seen the front of the Pantheon in all its Bronze glory. It's frustrating to think how much of Anicent Rome has been recycled, but like Vanessa said, some of the things they made were also indispensable to history. Please tell me we have learnt our lesson on this one.
Mum's cold is lingering like a stray cat so we went and took a granny nap back at the Hotel after our tour. I couldn't sleep so I caught up on some very important TV… ala True Blood and Make it or Break it.
When it was time to head off again it was around 530. The sun was still pretty high in the sky and although we were hungry, it was way too early to eat. We headed via Trevi, to Piazza Novona, too a peak at Bernini's fountain of four rivers there and scouted out the place our tour guide had recommended for dinner. This space used to be used for chariot racing and public executions in Ancient Rome, at the same time. Think like track and field is today, there is always something to watch. Since time was way early I suggested a walk to the river, which turned into a walk to another country. That's right people, I couldn't resist the pull of St Peter's when it stood just a few hops on the other side of the river, we went to Vatican City.
Now you know when the sun goes behind a cloud and you see the streaks of light illuminating the sky above? Very godlike don't you think? A little cool coincidence that our first glance of the living heart of christianity would contain such thing, but hopefully this has been caught on film as proof.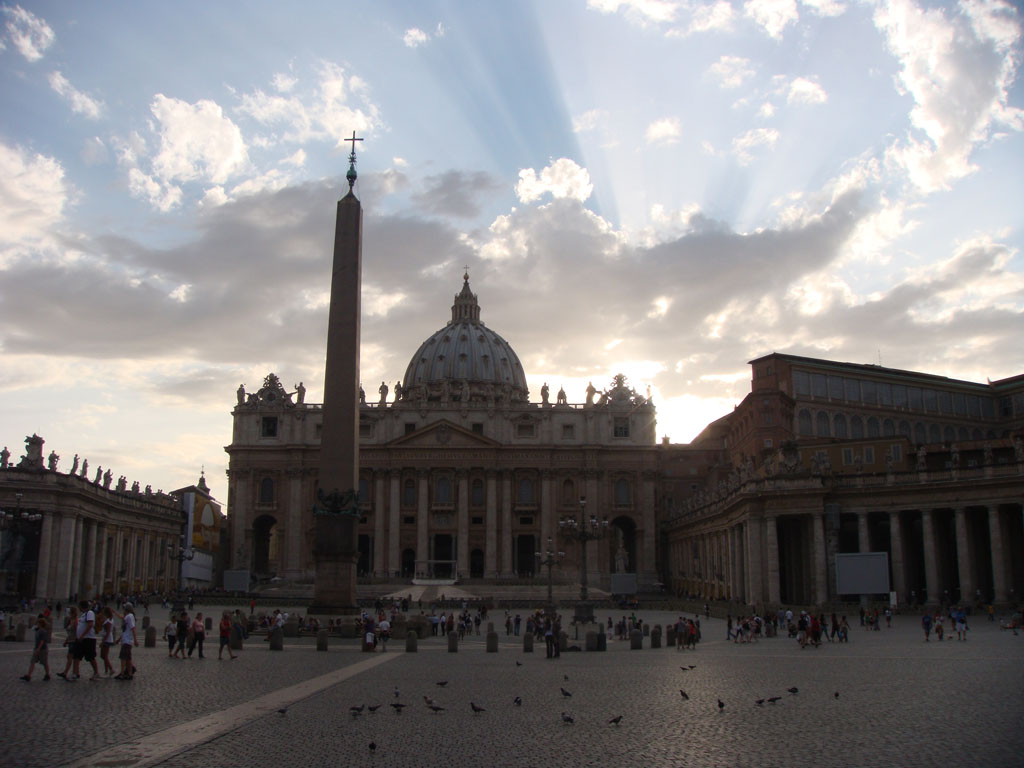 Mum was struggling but made it back to the Piazza for dinner. We had a rather… enthusiastic waiter. It started with Mum saying that she needs to sit next to me to protect me (god only knows why) but then the waiter said she didn't have to worry, that was his job. The flirting continued, wanting a smile, being overly attentive to our table, so much so that I think he got in trouble off his boss. We saw his boss begin to carry out our meals to the table, our waiter stopped him, spoke rapid Italian, sent the boss away with the plates only to return himself a few minutes later with them at our table. When it got to dessert I ordered my standard Coconut Gelato and he said,
"And no you cannot order me from for dessert."
And then laughed. I told him his delivery was late on that one, but Mum liked it. The boy was smooth that was for sure, good looking but a little short. We tried to think of ways to get his photo for my little project but failed on the count of leaving without saying goodbye. Fun dinner though and the lasagna was beautiful.
Walked back to the Hotel via Trevi (still packed with people) and crashed, another day over.